@Obscura: @_@;; Three or four people? Sounds about right. Working this project solo pretty much requires me to be a jack-of-all-trades, I'm doing just about everything short of music composition. But I'm glad that you think I'm doing a decent job so far =3
@Explody: Thanks, I'm glad that you like the UI. =) Currently I'm trying to find a way to get people to test the UI without revealing too much of the game content. I'll try to see if I can make the fan icon more 'fanlike' haha~
Okay. Now onto skill development. The MC gets Saturday Evenings off and Sunday Mornings off, which she may use to build her skills if she so pleases. After literally months of dithering, I've finally come up with an idea as to how to make this work. Below is a demonstration of how the 'practice skills' selection screen works. On the screen is a list of your basic skills. Suppose I want to focus on increasing the 'Cleaning' skill.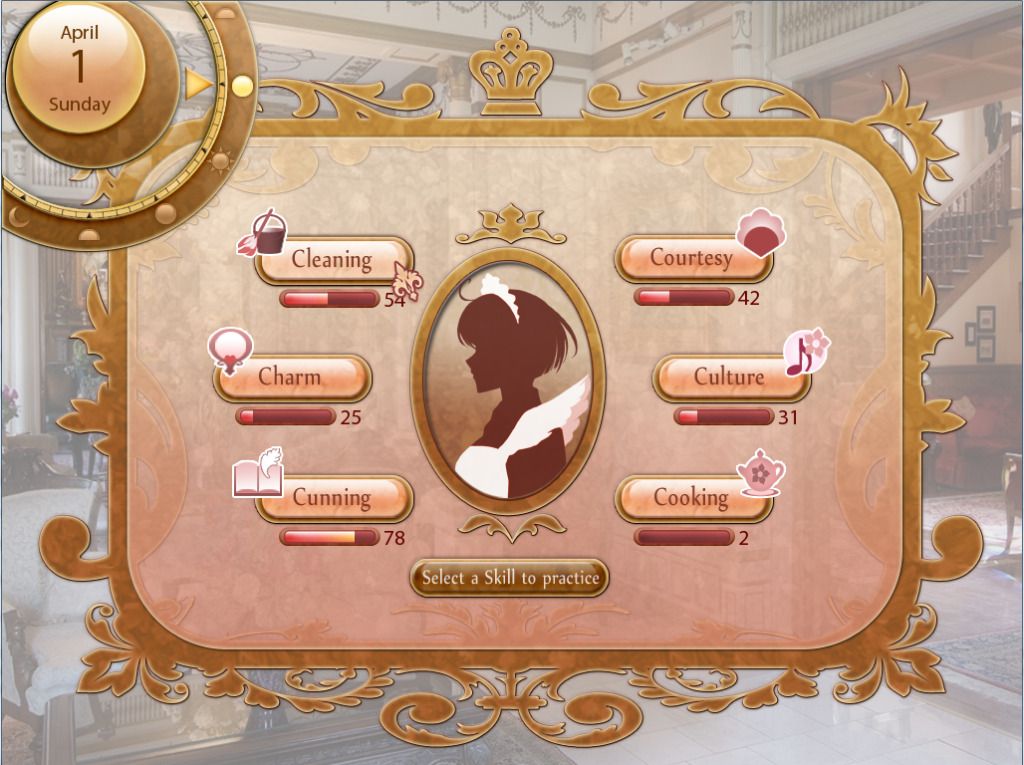 ...So I click that button...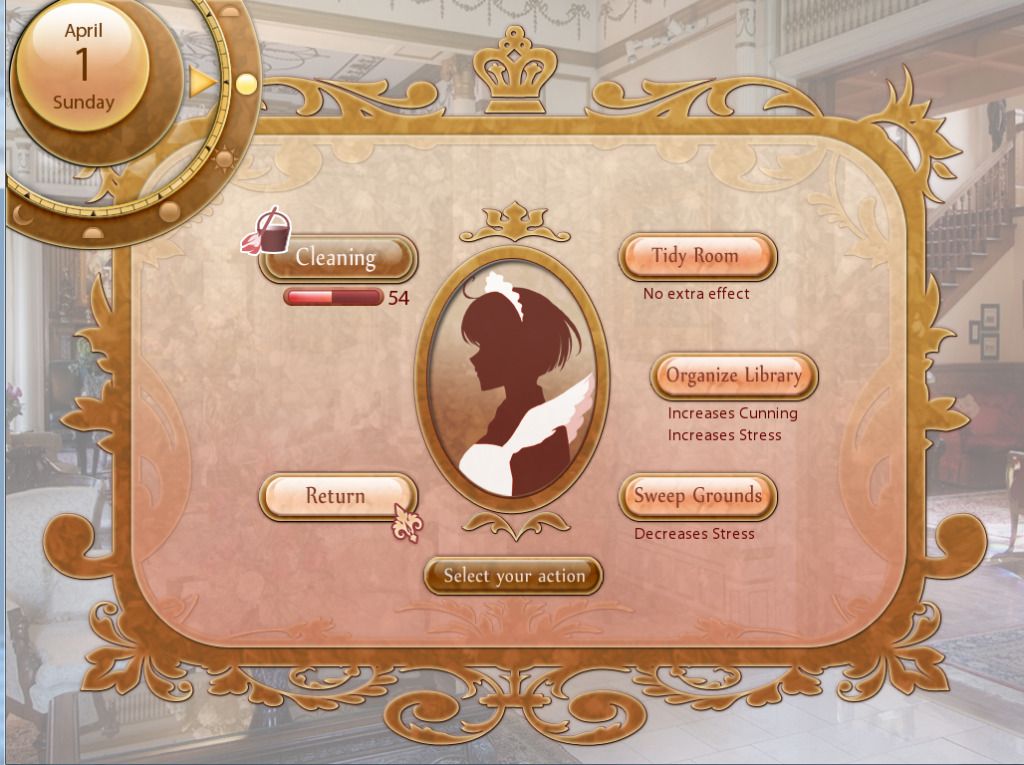 ...and it opens up to another, smaller list of 'activities' pertaining to the cleaning skill. Each action here will obviously increase cleaning, but will include some added effects as well (or none at all).
Also, doing some of these special activities will possibly come with their own special events. ...Okay sure, maybe cleaning might not be terribly interesting, but let's look at a few examples of activities related to other skills.
Charm
- 'Flirting' with the various people around the mansion will earn you plenty of charm, but your reputation will take a hit. (And your love interests, if any, will be
pissed
)
Cunning
- Attending a class in the city will cost you money, obviously, but your stats will increase greatly.
Cunning
(again) - How about playing cards with some of the staff? Behind your boss' back, of course. Reputation may take a bit... but you might earn (or lose) a little money.
Courtesy
- Practicing your manners by engaging in conversation with the higher-ups will increase your reputation, but will increase your stress.
Culture
- There's the arts and literature. There's also fashion and sewing. If you build enough skill and you have the sufficient funds, you might be able to sew your own dress for the ball.
Cooking
- Practice your skills in the kitchen, learn different recipes, and create something delicious (or disasterous) for that special person.
Huge ideas, for sure. I'm thinking that each skill will have no more than three 'actions' each. If anything, I think this might be a fun system for people to just explore and go crazy with. This idea is still in development, and very much open to change.
Let me know your thoughts =3 On the system and the interface that is. Or anything in particular, haha