Kura and leon: I'm afraid I haven't had much time to screw around with fonts, but once the script is done and I start getting into the technical nitty-gritty I will definitely be coming back to interface concerns.
Speaking of the script! Not only is this project not-dead, I have hit 60000 words, making this far and away the longest thing I have ever written (prize before that went to a 15000 word short story). We'll see if I end up breaching 100000, but I'm pretty sure I've at least hit the halfway mark by now.
Here are a few things in celebration:
1. Unfortunately, there will not be a beach episode in the game. So instead I am bringing the beach episode to the thread.
So much fanservice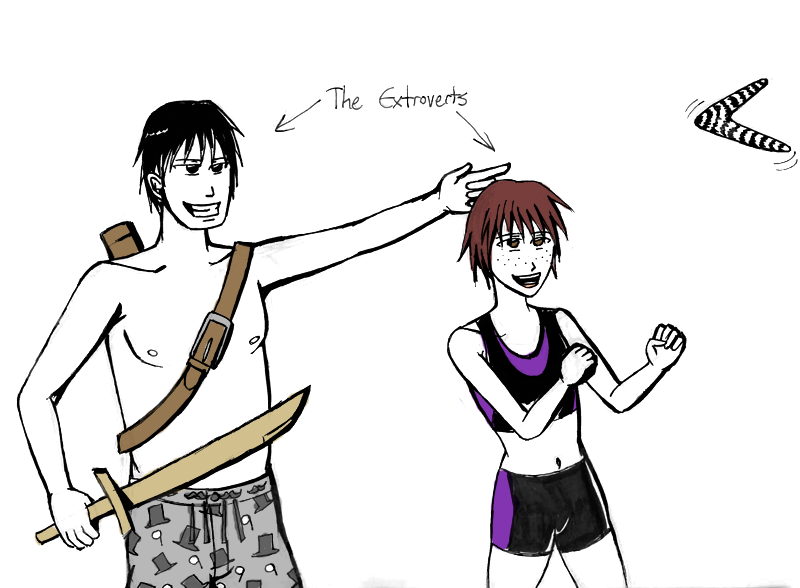 2. Some fun facts about the characters and who they're based off:
-Mike bears a resemblance to several girls I've known, most notably a girl who was the president of Anime Club senior year of college and one of my housemates. A lot of the way she phrases things is pretty much down to what I think is funny, and her experiences draw somewhat on my own.
-Kurt looks exactly like: my dad, one of my fellow Geology majors from college, one of my friends from college but palette-swapped, and my old roommate's older brother. Personality/background-wise, he is like my first friend from high school mixed with bits and pieces of my DnD buddies, the officials of the Anime and Gaming Clubs from freshman year of college,
my occasional tendency to troll
, and all the chill people who left the online communities I frequented behind.
-Douglas has the same hairstyle that both an online acquaintance of mine and one of the underclassmen I knew in college used to have. His personality and interests are based off the guy I palette-swapped for Kurt's appearance, one of my DnD buddies/fellow visual novel aficionados (though Douglas does not share aficionadohood for visual novels), a Physics major friend, one of the guys I stole his hair from, a kid I knew in middle school, my thing for robotics/AI, and a whole host of people I've encountered in my years as a member of various forums.
-Jeff looks like two of the not-me token Asian friends in my college social group. His interest in rhythm games and ancient weaponry is from me, his interest in cosplay from one of the girls Mike was based off, his interest in moe from some more of my token Asian friends, his liking for puns and silly humor from me, one of my token Asian friends, and the Physics major, and his interest in [spoiler] from me, 4chan, the aforementioned token Asian friends, and one of the guys Greg resembles.
-Speaking of Greg, he is about the size of me relative to the rest of my friends but has the hair color of the guy I palette-swapped for Kurt and the general appearance of my metalhead friend. The long curly-wavy hair is also a tribute to all the curly-haired nerds I know. His personality is a cross between that of my metalhead friend and that of the most stoic of my token Asian friends, mixed with an ample amount of classic nerd rage and inspiration from artists on Youtube, Newgrounds, and various forums. His habit of sneaking up on people and scaring the shit out of them is, again, from Kurt palette-swap.
-Facially, Matthew looks somewhat like one of the friends Douglas is based off of. Dress-sense-wise, the Kurt palette-swap. Personality-wise, he is like my best friend from high school, my best friend online, a kid from my college's debate team, a guy who played Magic with us sometimes, every reviewer who's ever written a smartass article, goons from Something Awful, some Youtubers, and some of my own complexes/neuroses from both [spoiler] and [spoiler].
So in short, everyone is a little bit of a Frankenstein of self-insert plus a bunch of people I know both personally and by extension, at least originally. And to some extent, all of them are based off stereotypical otome game archetypes, except that the archetypes they match up to are almost all completely switched around from what you would expect at first glance.
_________________
Forever Alone: Nerds the Gathering
- A brotome game. (Still editing/rewriting things! 4/2)
Night at the Hospital
- Maiden voyage of Team Snugglebunny
Skylessia: Tale of the Boon
- Epic fantasy whatsit, currently on hiatus.
Viking Pipsqueak Productions Blog
(under construction)
I occasionally frequently draw other people's characters.
Now offering delinquentization, medievalization, and cyborgification. Hit me up in PM if you want sprites for your KN or non-ren'ai VN.
EVEN IF THE TENDONS OF MY THUMBS TEAR INTO NOTHINGNESS, EVEN IF I GO NEARSIGHTED FROM STARING TOO HARD AT THE SCREEN, EVEN IF MY BODY IS CLOSE TO COLLAPSE FROM THE 72 HOURS I HAVE GONE WITHOUT FOOD! I WILL DEFEAT YOU!