♔ Updates
:
►
Edited on June 26, 2014
- Poster posted and all Love Interests are revealed!
►
Edited on March 4, 2014
- Main menu finalized.
►
Edited on February 25, 2014
- WIP CG added! Background by [
Link
]
►
Edited on October 21, 2013
- Logo added! Done by [
Anne
]
►
Edited on September, 7 2013
- Characters renamed. Website for Siren's Plea set up here:
http://pineappleharem.tumblr.com/sirens_plea
►
Edited on August 2, 2013
- Plot is finalized. Working on script and drawings now.
♔ Synopsis
:
"For many centuries, sirens and humans have been at war with each other. It isn't until the year Fienne 18:20 that the rulers for both races have agreed for a peace treaty to end the constant wars. To prove this allegiance, the current heir to the Eutropian throne, Prince Samuel Basilicus, is to marry the human princess, Princess Arianna Clarus. However, on the day of the wedding, the prince's fiancée is found dead. All of a sudden, chaos starts once again as both kingdoms ready each other for another war.

Lila Caelum, a Eutropian noble, is all of a sudden thrown in amidst this chaos as she soon finds out later that her life is in danger. Will she be able to avoid death and find happiness in this accursed life?
"

Siren's plea is a free non-commercial visual novel game that focuses on the choices the player chooses throughout the whole game. There are three romanceable characters to choose from plus a secret character.
♔ Genre
: Otome Game (GxB), Romance, Tragedy, Fantasy, Visual Novel
♔ Rating
: T (minor blood and violence; mild adult situations)
♔ DEMO Release Date
: December 2014/February 2015
♔ Characters
:
► Main Character
: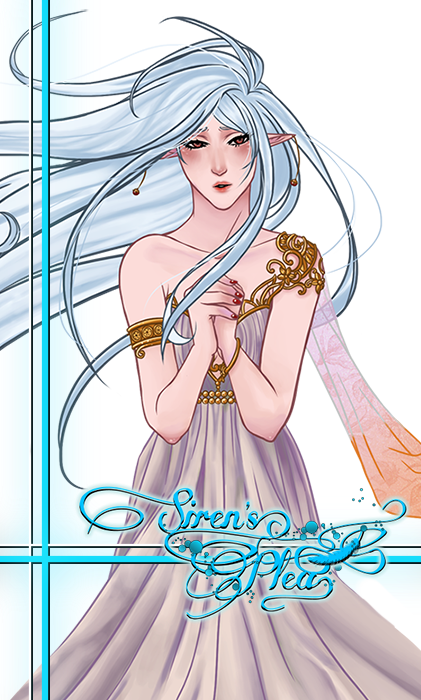 •

Lila Caelum




Bio

: The heroine of the story and a siren duchess who hates the human race. She is very sarcastic and has a dry sense of humour. She has an obsession with fine clothing and fashion.
► Love Interests
:

•

Adonis Sauveterre




Bio

: A human assassin/mercenary hired by Jade Bloom. He has a twin sister whose name is Treasa.

•

Leon de Solvite




Bio

: He is the count of the de Solvite household. He has a reputation of being a womanizer and is generally disliked due to his background.

•

Samuel Basilicus




Bio

: The mild-mannered heir to the Eutropian throne. He is Lila Caelum's childhood friend.

•

Secret Character

(Unlockable once first seven endings are seen)


Bio

: ???
► Secondary Characters
:

•

Jade Bloom




Bio

: She is a very feminine and animated Feritasian noble who came with Princess Arianna as her spokesperson. She has an obsession with beautiful men.

•

Arianna Clarus




Bio

: A human noble and the princess of the Feritas kingdom. She is the younger sister of the current king of Feritas.

•

Treasa Sauveterre




Bio

:Adonis' twin sister, the older one of the twins.
♔ More characters will be added later on ♔
♔ Features
:
► 3 love interests + 1 secret character
► 7 endings + 1 unlockable ending
♔ Progress
:
► Outline 100%
► Story 50%
► Script 10%
► Sprites 10%
► CGs 0%
► Programming 10%
► Music 100%
► GUI 100% (Courtesy of
Anne
c:)
► Extras 0%
♔ Screenshots (WIP)
: