Current Status:

BUSY
What I can do:
Pretty much any kind of art or graphic you need. And in a variety of styles.
My Strengths: Characters (human, fantasy, animals), pixel art, CG scenes
My Moderates: Nature Backgrounds, Graphic Design (logos, GUI elements)
My Weaknesses: Interior Backgrounds, Man-made backgrounds (I'm getting better now that I'm learning Google Sketchup.)

Some Samples:
Anime style sprites
Non-Anime Style Sprites
Pixel Sprites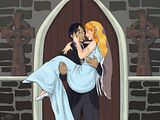 CG Scenes
More stuff can be seen at
modesty.deviantart.com/
or
7 Eldest Webcomic
Current Rates:
SPRITES
Bust Sprites (from the waist up) - 10 USD per sprite
Full Sprites (Head to toe) - 15 USD per sprite
All sprites will be sent as PNG graphics unless specified otherwise.
Extra expressions, costumes, hairstyles, etc will be added to the flat rate and can be negotiated.
A price for a set of characters can be negotiated at a discounted price. Meaning if you want me to make the sprites for your full cast of 5 characters, I will adjust my pricing for the project.
PIXEL ART
This will be dependent on the poses or animations necessary.

CG Scenes
Depending on the style a CG scene can range in price based on complexity, style and timeline.
The start price for any CG scene is 25 USD. That will include characters and a simplistic background, like this:
Price for a CG will be negotiated via PM.
OTHER ART
Other art requests like backgrounds, GUIs, etc will be considered on a case by case basis.
POLICIES
My Policies can be read here:
http://modestystudio.blogspot.com/2012/ ... icies.html
Please PM me with a request or reply with inquiries here.
You can also contact me at deviantart via DANotes.