Erika Lucas is one of two psychics attending St. Thomas Academy. For as long as she can remember, she's been able to predict the next day's weather with unerring accuracy. Because of this, Erika has been forced to wear the band that marks her as a psychic since childhood.
A mysterious text message summons her into the city late at night. In a deserted park, she find something that cannot possibly exist in this world. A monster made of shadows and a girl wielding a sword fighting it...

Erika Lucas
A low level psychic with no special powers. Her hobby is studying.

David Bond
All the sports teams at school have asked him to join, but he's turned them all down. His favorite color is orange.

Chris Farmer
It's rumored he gets a love letter in his locker at least once a week and they all go straight into the garbage. The junior class president.

Haneul Sung
She currently holds the school record for worst attendance. The other school psychic.

Parker Piers
His special talent is showing up at Erika's house whenever there's food. A self-proclaimed genius.
(I'll post more characters as I finish up their sprites.)
Help Needed!!
The first draft of the game is finished and I am in bad need of feedback before I start on the second draft. Therefore, I am looking for interested parties to read through what I currently have finished and let me know what they think.
The story is pretty long at about 95,000 words, so please only inquire if you are willing to make the time commitment for a few hours of reading. Please also understand that I'm still in the process of adding in music, sound effects and visual effects. Sprite are in various stages of completion. This is a fairly rough draft at the moment!
I'm more interested in getting general feedback on the plot (what works, what doesn't) and the characters at this point than grammar and spelling errors. I don't really want to post up a "demo" since it's a rough draft of the whole thing from start to finish and I'd like some surprises in the finished version. If you are interested in reading through, please send me a PM and I'll provide a download link.
If you've read this far, thank you!
Screencaps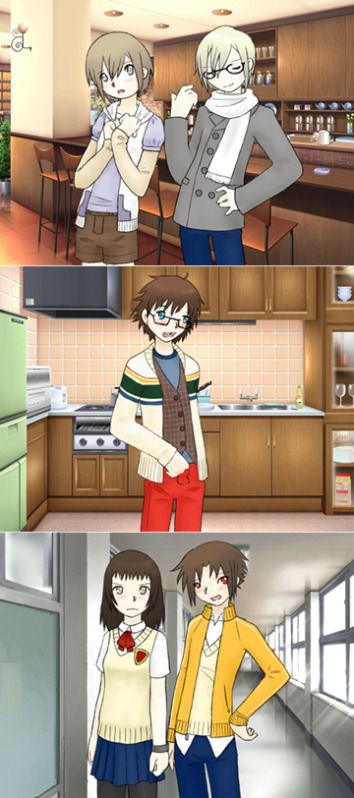 _________________
future aspect
my current work
my tumblr
for art and visual novel development updates