LINKS
Introduction video:
http://www.youtube.com/watch?v=5kVNIBaS39g&feature=player_embedded
Gameplay montage video:
http://www.youtube.com/watch?v=te3KJzbNgNI&feature=player_embedded
Development blog:
http://decorus-carcer.blogspot.co.nz/
DECORUS CARCER
http://decorus-carcer.blogspot.co.nz/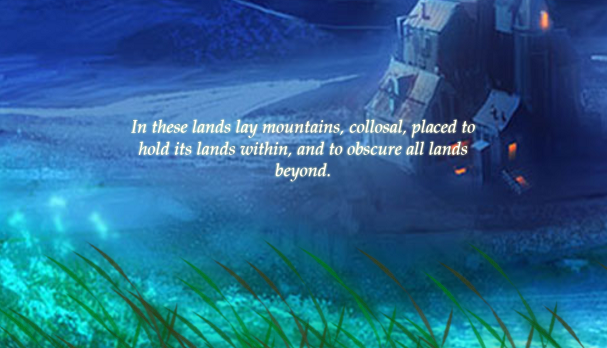 STORY
http://www.youtube.com/watch?v=5kVNIBaS39g&feature=player_embedded
The game is about a nation of people living in a picturesque land who strive to search for lands from legends. The theme of the game is beauty, as well as greed; and how the two can exist in the same world.
The story is a personal and intimate one that follows the main character closely. The plot will consist of character developments that take place in a land that follows such intriguing politics, which will make for interesting relationships and societal/political commentary.
I leave this section intentionally minimal. More story and character details will be disclosed as progress is made - which I will be updating both here and on my development blog.
GAMEPLAY
http://www.youtube.com/watch?v=te3KJzbNgNI&feature=player_embedded
The game will be a point-and-click graphic-adventure role-playing game. Phew. Pretentiousness aside; what that means is that the game will have a point and click interface alongside some simple role-playing elements.
These elements include Companions that will join you, a Journal that details important information (plot points, characters, locations), and Items that may be used to advance the story. There will be NO battle system. You will interface with the game by clicking on objects and characters to examine and/or talk to them. You may speak to Companions that are currently with you, and they may also speak their minds when you interact or talk with others. Items may be examined in the inventory, as well as be used with certain objects and/or shown to certain people.
The story will be divided by Acts. Each Act will consist of a number of Chapters. The story will progress linearly through each Act, though Chapters will not necessarily be linear. For example, a choice you make in a certain Chapter in Act I might determine which Chapter you will get next.
There will be a high level of replayability, as one will likely need multiple play-throughs should they wish to see everything. If I were to compare the game, I would say it would be a simplified take on a BioWare game (Dragon Age, Mass Effect, Baldur's Gate). Or perhaps more accurately, something like The Witcher - since there is a fixed main protagonist. Just for comparison's sake, other game influences have been 9 hours 9 persons 9 doors [Nintendo DS], Policenauts [PlayStation], and Awakening [PC].
Each chapter may include some sub-stories that the player may pursue. These will include companion relationships - though there will be no romance-able companions outside of any that are told through the main story.
DEVELOPMENT BACKGROUND
http://decorus-carcer.blogspot.co.nz/
I'm a fairly junior developer who's been working on an old school 2D point and click graphic adventure game for some time now. I'm coding it entirely by myself in C# using XNA, having unfortunately discovered the wonderful thing that is Ren'Py only after I was months in development. I plan to keep at it. Though it may be difficult to compete with other Ren'Py made VNs, I hope to do my best in creating similar - perhaps, dare I say, even better - experiences.
I have made significant progress since I first undertook this fairly insane quest, bypassing opportunities to start out with tetris and mario clones while gunning straight for the big old graphic adventure. I've admittedly run into frequent road blocks regarding simple things, though I've since overcome most of them - of course with new nagging ones instantly taking their place.
I hope to document my progress as I continue developing the game. For those experienced developers out there, I'd really appreciate if you could follow my blog and my progress. It is a means for me to share my progress alongside any discoveries I make, but I also hope for it to be a forum of sorts for discussing techniques I've used, and the inevitable problems I come across. I could really benefit from as many readers as possible, given I am relatively new at this.
PROGRESS
The blog currently appears to cover more technical aspects of the game's development, though since the game engine is nearing completion, I plan to disclose more information as posts regarding the story and concept.
My current next-step is to create another demo while also finishing up some bits and pieces with the game engine. This one will be in the form of a Chapter you will play in the game, and will include all of the features I have described above in the gameplay section.
I also need to formally plan out my Acts and Chapters. Other than a few previously written chapters, I have not started on writing the official story yet.
COMMUNITY
To start with, I would appreciate any feedback so far; that includes feedback on the story and gameplay details, on the videos I've posted, as well as any posts I've made on my blog.
I would also like to ask; in general, how many games posted on this forum are NOT developed with Ren'Py? I am simply curious, as it appears to me that all, or at least most, seem to be made exclusively with it.
I have also created some prototype demos, though I'm tossing up whether I should post them or not. They use art from other commercial games, and currently have no save/load features. Your input on this would be helpful.
Thanks for reading!