Supernatural High: A school for those that are not 100% human, because even for those that are nonhuman, their parents still want them to attend school.
After her death from one month ago, Hitomi is forced into the supernatural world. She has no memories of how she died and had not even realize she had died before being told by a reaper. Unwilling to go on to the afterlife without an answer, she strikes a deal with a reaper. Now the days are counting down. She only has a limited amount of time before she loses. If that isn't difficult enough, she also has to blend in with the supernatural. Ghosts have been forbidden to roam around after their deaths to prevent a massive buildup of the supernatural population. On the first sign that Hitomi is just a ghost, she will be pulled away from her investigation.
But who are her friends, and who are her foes?
And more importantly, will she make it on time?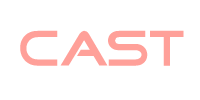 Hitomi
Type: Ghost
A dead girl. A wandering human soul. She is a bright girl keen on discovering the mystery behind her death. Ever since
that fatal day one month ago, she has been unable to recall the moments before her death. Somehow, her determination has
managed to prevent the reaper, Kurou, from reaping her soul. For a week after the failed reap, she tried continuously to
escape from the reaper. She was soon caught.
However, Hitomi has agreed to a binding contract to go on to the afterlife under the conditions that she find out
the mystery surrounding her untimely death.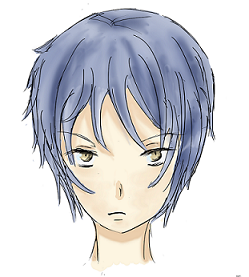 Kurou
Type: Reaper
"That child has already given up on life. He will die before the hour ends."
A reaper of souls. A shinigami. He seems to prefer dark places and the nighttime. There is a melancholic air surrounding
the reaper. To the dismay of everybody, bad luck follows wherever he goes.
Known for his impeccable reaping record, he recently fails to reap a dead girl's soul. Instead, he becomes bound by a
strange sealing magic that has locked away the majority of his powers. His only lead in finding out the mystery behind
the seal is the dead girl. Over the past month, he has taken to following Hitomi wherever she goes. Recently, he is
beginning to show concern over something, but will not elaborate further on what is troubling him.
???
Type: Demon?
A demon who has taken an uncanny interest in Hitomi. He is Kurou's boss. Kurou appears to trust the demon, but at the same time, seems to be placing distance between Hitomi and him.
Ri
Type: Fox Spirit
A kitsune spirit who believes that Hitomi is bad luck. He tells strange fortunes from time to time.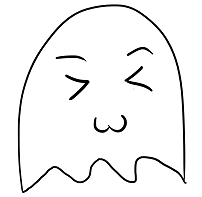 Ghost: Generally seen as benevolent and somewhat naive, ghosts are humans who have recently passed away but have not been retrieved by a reaper.
Reaper: Reapers are shadow creatures and prefer settings with little to no sunlight. Whenever a death occurs, reapers will generally be there. Normal humans cannot see them.

Plot Outline - 100%
Script - 5%
Programming - 25%
Sprite Art - 5%
CG Art - 0%
***Three GxB paths
***Seven-Nine different endings (currently planned)
***4-5 Hours of gameplay
***4-5 CGs per path
***Solve the mystery by playing through all paths!

12/21/12 - Added more information about the game