Old thread---->
viewtopic.php?f=16&t=12502&p=164919#p164919
NEKOCON! IS CURRENTLY ON HIATUS AND WILL UNDERGO REVAMPING! I have decided that I would like to use original art for this visual novel, as well as revamp it a little, and change the con's name since there's actually a real NekoCon. The reason is I want to use these particular free sprites for some short VNs I have in my head. However, I DO plan to release a demo leaving these sprites as placeholder images, for now. So look forward to that!
I've been meaning to re-post this in the new WIP board, and finally decided to do so now. After NaNoRenO is finished, I am hoping to work full throttle on this project! I am also hoping to get a demo of it out very soon. Okay, now let's get onto the actual novel.....
This is a little experiment of mine. My first attempt at a Christian visual novel! I'm using entirely free to use resources, as I do not have the time (or the talent) to draw up my own right now, nor do I have enough money to hire somebody. I hope someday to make a VN with my own art, but first I'd like to see people's reaction to my writing skills. Plus this gives me good programming experience! This visual novel has become very special to me, as I am expressing my own feelings about Christians and anime, especially through the main character, Yume, who is a slight reflection of myself.
CURRENT PROGRESS
The game contains 882 screens of dialogue.
These screens contain a total of 8,800 words,
for an average of 10.0 words per screen.
The game contains 4 menus.
What features will it have?
There will be interaction, so you will have various choice menus come up, which will influence what kind of ending you'll get. I'm not sure how many endings I'll end up with as of yet. Some choices will have invisible stats, so it'll make it easier for me to insert things, but this game isn't extremely stat based or anything. The in-game message system will also be used for e-mail messages!
You have 21 days until the con. You will be experiencing all 21 of those days in the visual novel, as well as (depending on how you play) all 3 days of the convention, and maybe an epilogue after the fact.
I am debating whether or not to have voice acting. I think it's fine the way it is, but it might be kinda cool to have voiced dialogue. However, I'll worry about that later, once I finish the script.
THE STORYLINE
Yume Kuromizu has been homeschooled all her life. But now, at age 15 and in 9th Grade, she will be sent to a regular High School. Yume is an aspiring mangaka who wants to use her art for God's glory. She and her friends have started their own "anime club" and all plan to go to NekoCon! a local 3-day anime convention that'll be in it's fifth year. Only in 22 days (21 days if you exclude Day 0), she has to prepare by getting all the materials she needs, because she's decided that she's going to sell in the Artist Alley! It's going to be crazy getting prepared to have a full inventory, the needed supplies, as well as cosplay! And then there's the fact that she has less time on her hands now that she's attending school now. Then there's this girl she's recently befriended in school who she's trying to reach out to. Could Yume's love for anime be the "ice breaker" in connecting with her?
I plan to make this have choices, though I'm not sure how many endings it will have (I don't plan to make this an extremely long novel). The visual novel will focus on the days before the con, as well as all 3 days of the con, and maybe a little bit of the aftermath. As from the description, it's a Christian visual novel and I sort of reflect my feelings through Yume that anime isn't bad and can be used for good, so I guess you could say a piece of my own heart is in this little project. Yeah, the word "Christian" and "anime" usually aren't seen together, but I know I'm not alone in this. XD!!
THE CHARACTERS! (For now, here's the description of the main character).
Yume Kuromizu
(This adorable sprite was created by
louee
)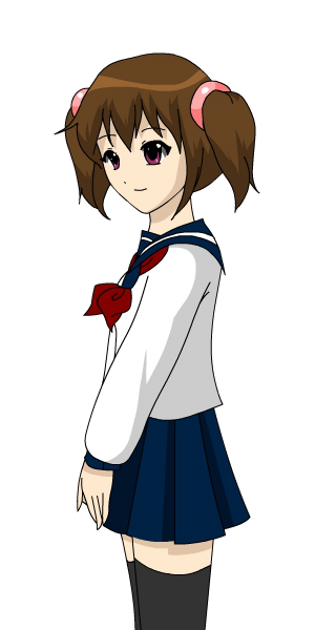 Our main character! According to her friend Tsuki, she is the "third" person from their anime club to "drop out" of homeschooling (as they call it). Yume is a sweet and kind girl, but can also be hyperactive and overly excited. Her dream is to reach people through art. She has a crush on her rather nerdy looking childhood friend, Tadeshi, and she really hasn't told anyone this 'cause she's afraid they'd laugh at her. It's not that she's ashamed of liking him, it's because their laughter would really tick her off. A huge fan of anime/manga, some of her favorite fandomes include series like Fullmetal Alchemist, Heroic Age, Steins;Gate, and Tsubasa Reservoir Chronicle (as well as many others).
Rita Emerson
(Also created by louee)
Tsuki
(Sprite created by sonone)

She's very cheerful and loves her anime. She is also an aspiring visual novelist, working on her own project using Ren'Py (yes, I will shamelessly advertise this beloved engine!!!) When it comes to her choices in what she reads or watches, she isn't all that strict, and pays attention to the redeeming values of the entire product. She really enjoys fantasy or action series. Some of her favorite anime and manga include; SakuraHime, Magic Knight Reyearth, Nabari no Ou, Steins;Gate, Claymore, and Fullmetal Alchemist, as well as many others.
Tadeshi Endo
(Sprite also by sonone)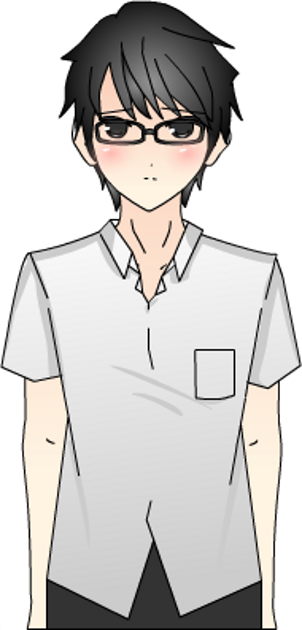 Naomi
(Sprite created by
Tsuine
)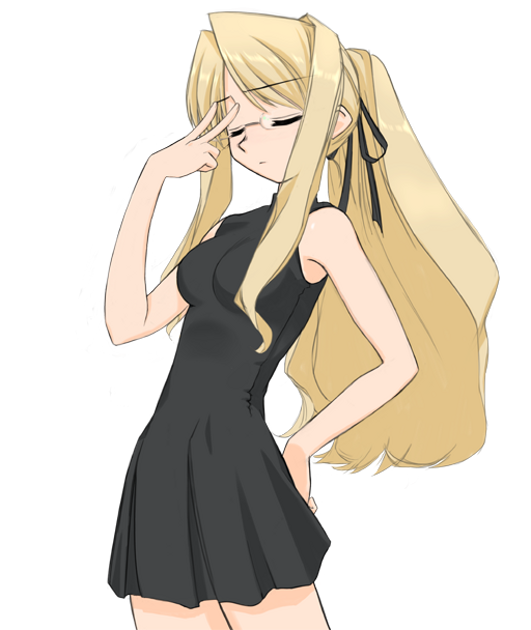 She's the fearless leader of the anime club! Her favorite series of all time is The Melancholy of Haruhi Suzumiya.
Akiyo
(I forgot who made this sprite, but I remember where I found it, so I will update with the credits as soon as I either remember or find it XD!!)
Asako
(Image coming later....)
Asako is a rather quiet and shy girl, but is very nice and sweet. Like Yume and Tadeshi, she too is a 'homeschool drop-out', but she doesn't attend the same High School. She's actually been enrolled in a private Christian academy. She is very cautious with what she enjoys in the anime/manga world, sticking to only the cleanest titles she can find, enjoying very few exceptions. Her favorite series comprise of; Kimi ni Todoke, Kitchen Princess, Angelic Layer, Chi's Sweet Home, and some self-published OEL such as The World Stops!, Thunderkid, and Game Plan!
Mei Lan
(Image coming later...)
Yume's best friend, and a girl with nerves of steel! Out of the entire group, she's stomached anime that even the more loose members won't dare see! Yume also describes her as "a cross between Tomoyo Daidoji and Haruhi Suzumiya" when it comes to dressing her up (she likes dressing Yume in all kinds of outfits). She's a black belt in martial arts, so don't try crossing this girl. Some of her favorite series include; Higurashi When They Cry, RG Veda, Toradora, and many others.
(NOTE: I am basing this girl on my friend. It is true that she has nerves of steel! She's watched Elfen Lied >.>)
(MORE IMAGES AND DESCRIPTIONS COMING SOON!!)
SCREENSHOTS!!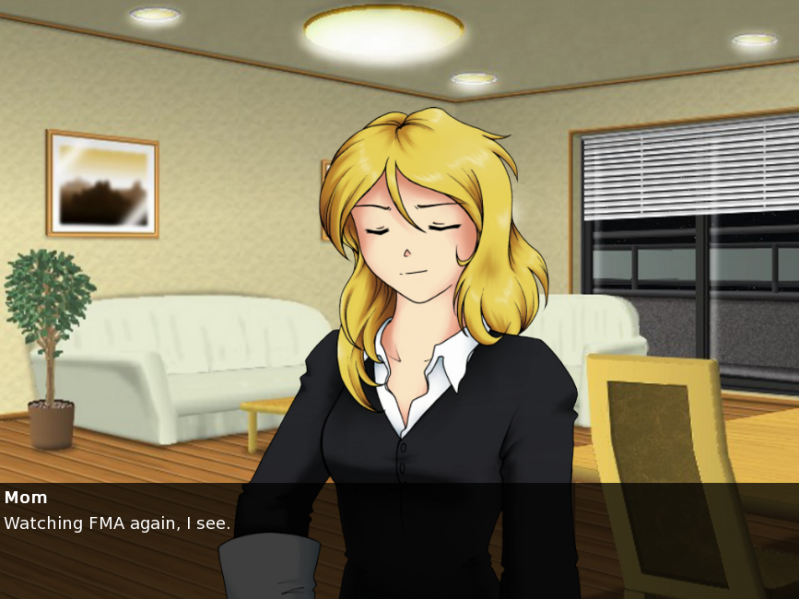 Honest feedback appreciated! I'll try to have a Demo up sometime soon so you guys can try it out. Thanks in advance for reading and God Bless!