Okay. It's been a while since the last time I announced my new project.
Maybe some of you already know about this project from my post in some other sites.
And it will be fully voiced in Japanese except for some characters.
Title:
East Tower
Official Site:
CLICK HERE!
Platform: iOS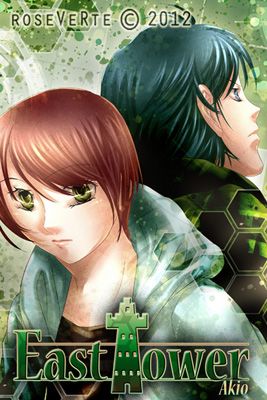 Story
Sakuya is a tomboy who has always wished to be born as a boy. One day, her cousin Daiki asked her to participate in a virtual theme park's presentation by testing one of the new attractions, West Tower. Sakuya would like to go, but she has more interest in testing the other new attraction - East Tower, which is specifically designed for boys. Af first, Daiki does not let her, but in the end he gives in when she expresses her strong desire. Unfortunately, an accident happens during the presentation and all the participants end up trap in the virtual world.
What actually happened? Can they find a way out?
Things are not as simple as how they look.
About the Dream World
Dream World is a virtual theme park which is built in the near future.To access the park, the participant will need to enter a capsule, which is connected to a machine which handles the park's system. Inside, you will not be the same as what you are in reality. You can transform to anything you want to.
This is the place where everything you wish for will come true.
So, what is your wish now?
Characters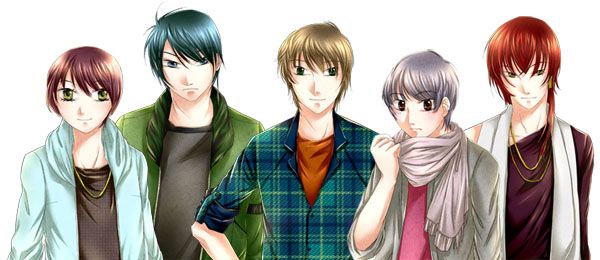 Sakuya (Main Character)
A girl who has always wished to be born as a boy.
When she was young, she failed from saving a little boy from his kidnapper. This incident made her wish to be a strong man whom everyone can rely on.
She hates to dress like a girl, because she thinks it made her look like a wimp.
She transforms into a boy inside the virtual theme park.
Akio
One of the sponsor's son, and a representative of his father's company.
He is cold and taciturn. Everyone treats him well just to please his parents. He hardly trusts anyone besides his himself.
Takashi
He is the younger brother of the Dream World's manager. He is cheerful and optimistic.
Kuon
One of the sponsor's son.
A shy boy who looks younger than his actual age. He always worries about everything, and gets nervous easily.
Kurenai
A man with a body full of tattoos and piercings.
He appears inside the virtual world as one of the participants, and chooses to act on his own.
Please check more information on the official site.
Akio route scenario is done now (in Japanese and English), with the GUI and sprites.
*Update: I managed to link my bank acc to google so I can make android version too but maybe it need to wait, since I made it in iPhone resolution.
Some movie:
When I tried it on my iPhone4
Some play through movie
Sorry if I clicked too fast.