Totally legit double post. Derek's new sprite is done!: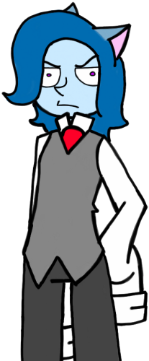 Yes, he's still blue. Yes, he's got cat ears. That's what was under the hat, but I just went 'screw it' and revealed at the beginning.
Irrelevant back story/world history:
being a cat/animal-eared person is not a good thing.
Also, TOTALLY COMPLETE SCREENSHOT: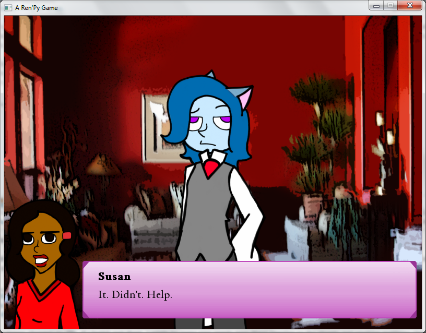 His eyes are sort of derpy, aren't they? Maybe I'll fix it later.
I feel so accomplished. The sprites left to do are as follows:
-Mongoose!Susan
-Becky
-Candace
As for CGs...there's probably won't be any, because
screw it
I don't feel confident doing them, but it I get everything else done, I'll try. Nothing ventured, nothing gained I suppose.
_________________
I lie awake at night wondering what fresh hell tomorrow will bring me.
***
Say You Love Me
***
Human Enough
***
Cheerful!Polymorph [NaNo12][Complete!]
***
*Website, yo*