Anyone else played this game? I really liked it, and it really takes the SNES to its full potential in sound and graphics. And plus, it has to be
the
most radical video game remake ever made. It's almost like the characters and backgrounds were redesigned from the ground up - Most of them barely look the originals. Which is a good thing, since the originals were incredibly crappy. I'll post some screenshots a bit later... believe it or not, I actually had the patience to suffer through about half of the first chapter in the FDS version, and take a bunch of screenshots along the way.
Most people are a bit put off that the only way to play it is to patch an illegal ROM, but if you ask me, if Nintendo doesn't officially translate and release this, that's their problem.
A DS port of this game would be completely awesome.
I'm just interested if anyone else enjoyed the game as much as I did. I got a bit less than positive response on another forum, but I'm figuring posting about a visual novel on a visual novel forum will work out better.
*looks at Wikipedia entry* My GOD that is DETAILED!!
Anyways, I promised screenshots, so here they are!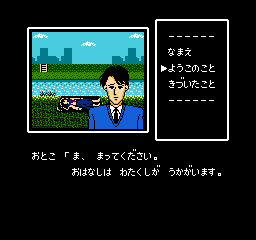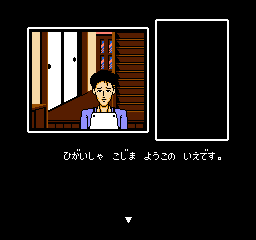 I don't have any relevant screenshots from the remake at the moment, but anyone who's played the remake will probably recognize (some) of the areas in here.
What really annoys me about the FDS version of Part II is that the graphics aren't just worse than the first one.... they're a LOT worse. Look at this screenshot from the first game: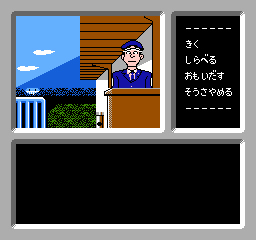 Obviously, they're still a bit simplistic, but a lot better than Part II on the FDC.