eclipse wrote:
Why not talk about it here? Since it will be used by the public in general, shouldn't they know what the output/workings will be like?
Well, I was planning on talking about it here... Just not until some artists have comitted. But what the heck.
Quote:
1) Sizes?
Considering the norm is 800x600 screen resolution, 600px would be an ideal max for character images. Now, for width, it gets a bit dicey. Each character can take up more or less than another depending on the design and "what" the character is (ex/ cat-girls).

Hm... This is mostly an issue for artists to work out. I'd suggest that characters should fit in a 400x600 bounding box, so two can be put on the screen at once, but apart from that, I don't have much in the way of suggestions.
I do suggest that artists contributing to this project organize, somehow, so that the character images are similar. For example, eyes should be in same place, and the size of the head should be roughly the same.
Quote:
2) Format?
Most people use PNG format for characters as it is the most versatile. I guess we can safely say that this is a must for input and output. As an alternative, you could put in a GIF and BMP option.

I figure I'll support PNG. It's easy to add the others, but frankly a 1-bit alpha channel isn't enough, and I don't want to encourage it.
I may also support outputting a fragment of Ren'Py code that causes Ren'Py to assemble the character using im.Composite. We'll see.
Quote:
3) Templates?
Here, we can either a) make a general body template that all artists must adhere to and users can inter-change the styles of each artists or b) each artists create their own basic body templates, creating a more diverse selection.
I'm thinking this is a decision best left up to the contributing artists... although if someone wants to contribute a body template to get started, that would be good.
Quote:
Aside from that, we need front-view, quarter-view, and side-view options. I guess we can hold out on QV and SV for now since it's mainly FV characters used. Oh yeah, waist up, full body, or knee up images?

I would suggest either waist up, or full body. In the latter case, it would be easy to automatically crop the image to either of the other cases. (The default image would probably be bigger in that case, and scaled down)
Making full body and cropped images available would mean that it would be easy to insert the full-body image into a background to make a poor-man's event CG. But it would also mean more work for the artists, and it's their contribution over the long term that will make or break this project.
Quote:
PyTom wrote:
Once I get the images, I'll throw a few hours into coding the software up.
Hmm, anyone else up to creating some character art?
I'll specify that to start coding, I'd require a bishoujo body template, so as not to trigger BFR*, and enough art to demonstrate that the system works. This means two each of clothes, hair, eyes, mouths, etc... everything I need to get a reasonable result.
I can probably accepted some sort of layered image, and then automatically convert that image image into a series of registered pngs. Otherwise, we would be forced to align the images by hand... not overly fun.
It might also help if an element of a given color had the same hue throughout the image. This way, it would be possible to give the user the option to rotate the hues on a layer through the HLS color-space, letting them recolor all or part of a layer.
For example, here's a rotation of the hue of Ayu's pajamas by 180 degrees.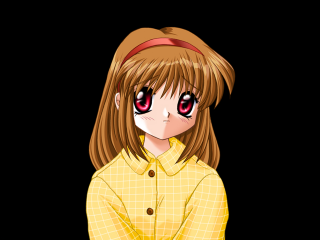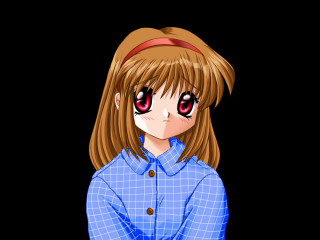 Before is on the left, after is on the right. This was actually done with some sample code I whipped together to prove the concept.
Making this a feature of the tool seems like it could be fun... For each layer, we could let the user recolor the various components.
* Bishonen Flight Reflex
_________________
Another Old-Fashioned Bishoujo Gamer
Supporting creators since 2004; Code > Drama
(When was the last time you backed up your game?)
"It is not the critic who counts; not the man who points out how the strong man stumbles, or where the doer of deeds could have done them better. The credit belongs to the man who is actually in the arena, whose face in marred by dust and sweat and blood; who strives valiantly; who errs, who comes short again and again, because there is no effort without error and shortcoming" - Theodore Roosevelt