Synopsis
: It's probably obvious, but the game is set within the Heian era, and the main character is a young lady in that time period who recently became a lady attendant of the court of Kyoto. You were raised in the countryside, so life in the imperial court is very new and different to you.
You were supposed to go to a poetry contest that was organized by the emperor, but you got a stomachache, so you couldn't go. A stomachache, you ask? That's what the game says. This made you very sad. In any case, that's when the mysterious love letter that started all of this arrived.
Who is the poem from? It was well written, and conveyed genuine feelings for you.
There are five ending CGs for each guy. Happiest, Happier, Happy, Normal and Unhappy. You actually choose which guy's route you will play after a while, so there is no worry about ending up with the wrong guy.
Each guy will send you an e-mail at the end of most chapters in his route.
"E-mail? In the Heian era?" You ask, probably blinking in confusion.
"Meh." I shrug. "Don't ask me."
Meet Cute(ies)
Tadadadaaaa! Here are the possibilities of who might have written you the letter. All of them could have the ability to, or at least an incentive to do it, but who could it be? Who's the one behind it? Well, we'll find that out later.
FIRST UP!
The Emperor, Kuze-sama!
"The Man with Furniture-Fu"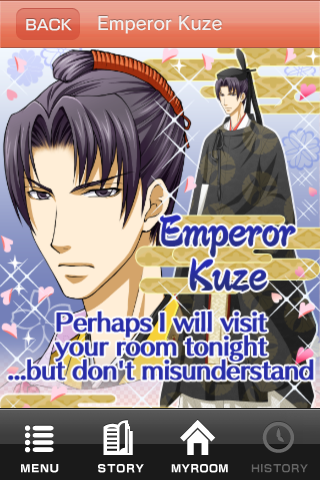 As the game itself says, Kuze rebuilt the empire after it'd crumbled (for unexplained reasons), and probably only recently regained his imperial power. He's pretty strict, and can come off as cold a lot of the time. You have to work for it with this guy, he's not going to warm up to you very easily.
Rivvie's Extra Comments
: To be honest, I thought he was one of the weirder characters. You'll find out why, later.
Yui Manamoto
"Childhood Friend + Dance Upgrade"
The required childhood friend. Yui is actually very skilled in the arts, such as poetry, musical instruments and dance. He comes off as very mischievous, but also has his soft side. He seems to be popular with the court ladies, so there are a lot of rumors floating around.
Rivvie's Extra Comments
: I found his route fun to play, but I had a hard time reading him. He'll be fun, but also seems to have a sensitive side, so I said the wrong thing quite a few times.
Masakuni Sugawara
"Uncle-chan"
Yes, as the nickname suggests, he is the main character's uncle. He's not blood related, since he married the MC's father's sister, but... yeah. In any case, he's a member of the imperial guard, and is very well respected by.. almost everyone in the game. Even your attendant, Hinata, has a crush on him (or so it seems). Your aunt (his wife) died when they were both rather young, and he hasn't been involved with anyone since then.
Rivvie's Extra Comments
: This guy weirds me out because of the whole "you are so much like your aunt" thing he does so often in his route. Overall, he's very badass, though, and he does have some nice moments. STILL. I didn't have much fun. I did it for you guys. And Meg. But mostly for you guys. *killed by dragon*
Sakuhito
"The Sweetheart"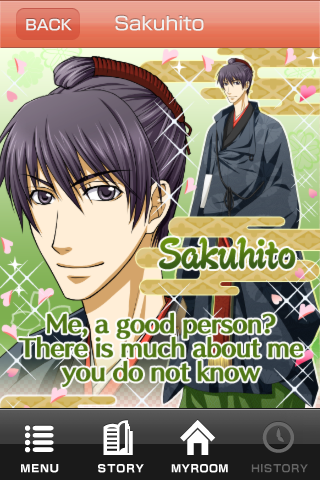 You'd think this'd be more of a "let the player find this out after some digging" thing, but it's announced right in the prologue that this guy is the Emperor's double. He fills in for the Emperor whenever he's needed, and generally does his job pretty well. Generally, since the MC busts him pretty easily. He was born elsewhere and was brought to the palace to perform this role.
Rivvie's Extra Comments
: I tried to think of a snarky nickname, but I couldn't. This guy is a sweetheart. Every mail he sends is full of nice things. I think he's the only character that doesn't throw a fit at you at some point. I love this guy.
Mikage Abe
"The Voodoo Man"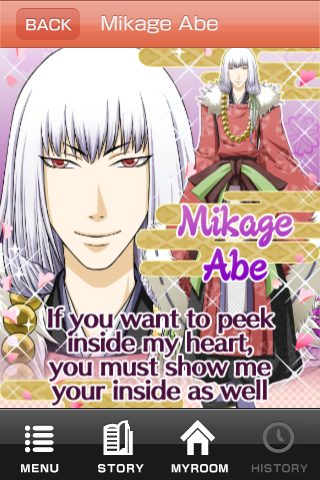 Mikage is an exorcist who also works for the Emperor as both a protector and advisor. He loves to pick on people, so a lot of people tend not to like him much. A lot of people of the court are afraid of him because of what he can do with his magic. The game hints that there are even rumors that he bewitches people and hangs out with dead people on rainy nights for a quick drink. I don't know why he would do the second one, but... *shrug*?
Rivvie's Extra Comments
: He dearly loves to tease the heck out of the MC. He's very guarded, but a generally nice guy who does do quite a few kind things for you. Even if he does make fun of you all the time.
Hinata
"IT'S A TRAP!"
Hinata as your attendant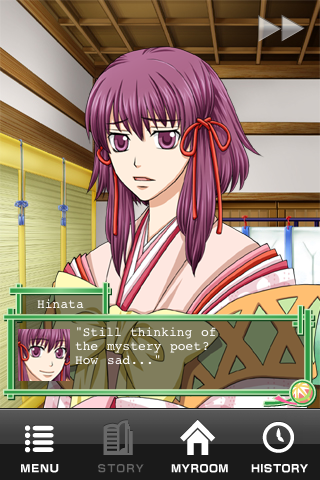 Hinata in boy clothes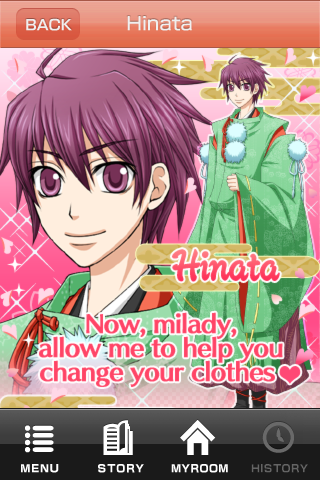 Your first reaction might be, "OH MY GOD SPOILERS!! ALREADY!?" but no. It's actually not a spoiler, since the game reveals this in the prologue and that picture of Hinata in boy clothes is in the character profile section that you can access before you even play the game.
That said: Hinata was a war orphan that was taken in by your father. They were not aware of his true gender at the time, and unless you are on his route, the MC is not either. He serves as the MC's personal attendant and pretty much does everything for her. Yes, he helps her get dressed, as the profile picture says. Take that as you will.
Rivvie's Extra Comments
: The token shota, I guess. It's cute at first, since Hinata is really super protective of his lady, but then you stop and think, "This guy's been watching me get dressed and likely helping me bathe all this time without me even being aware of the fact that he's a guy. That's kinda creepy."
Hisame Kyogoku
"Also known as God's Gift to Women"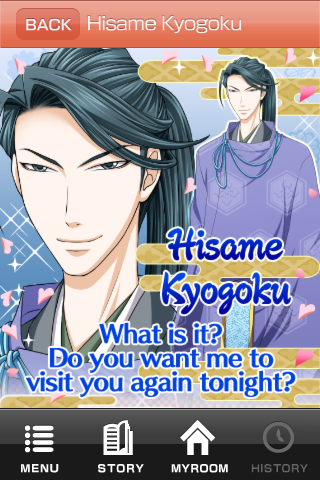 Hisame is the son of an important minister, and also comes from a noble family, so he's got a lot of clout, and a lot of respect. Unfortunately, it does not seem deserved, as he plays the villain in every route but his own. He is fairly skilled at both poetry and dance, but he is very, very overconfident and entitled.
Rivvie's Extra Comments
: Every time I've ever seen this man, he's found a new way of irritating me. It's like he expects all women to fall at his feet simply because he walked in the room. I guess some people like that, or something.
Izo
"I'm Too Sexy For A Last Name"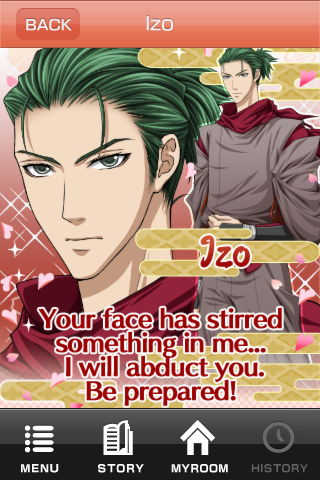 Izo is a gardener. He's very passionate about his job, and also very serious. He doesn't talk a lot outside of his work. He used to take care of Lady Ibara's garden, but was sent to help you. He's a "commoner" while you are now of the court, so he is of a different social stratum than you. Which, of course, only makes it more forbidden (and tempting).
He isn't dressed much like a gardener, is he? All in due time.
Rivvie's Extra Comments
: He's a pretty nice guy, and very good looking! I just wish you saw him for more than FIVE SECONDS outside of his route.