After months of research and preparation, we are finally ready to present to you:
You play as Valory (name changeable), a budding trapeze artist (flier) who was recently admitted to work for a travelling Italian circus. Circo della Sera is an event-based, otome game focusing on the main character's new life in the circus as she works her way towards her first big performance. Along the way, she gets to know the other performers, as well as discovers the hardships that lie behind the romanticised image of the circus. With no significant storyline, this is a character-based game, concentrating mainly on the interactions the characters have with each other.
And henceforth are the character sketches. (The actual sprites will look much, much nicer, I promise. :'D)

Valory (name changeable):
Age: 19
Height: 162cm
A young flier who aspires to perform in a circus. She gets her chance when she is accepted into the "
Circo della Sera"
.
(Valory's personality will differ noticeably depending on which route you choose to take, but not so much that it becomes unrealistic or drastic.)
Eric: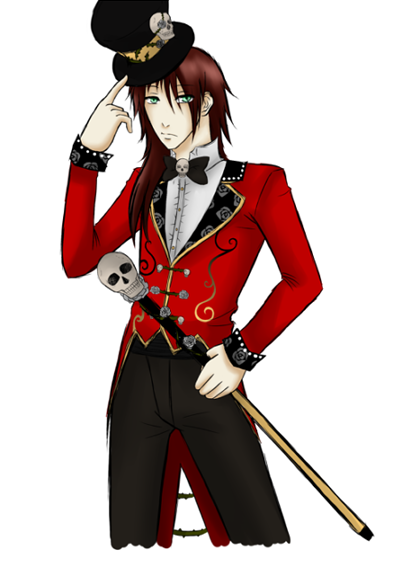 Age: 24
Height: 185cm
The circus ringmaster, this stoic young man also oversees and runs the entire circus after the passing of his father. His seemingly cold nature is laced with a mature charisma as well as a strange and obscure, almost childlike, taste in decoration. He prefers to speak through his actions, and consequently may sometimes be misunderstood. Eric's cold stare tends to scare many people, however, he does not realise the full extent of his intimidation.
Keith:
Age: 21
Height: 178cm
Keith is the youthful magician of the circus and its biggest flirt. Using his good looks and tricks to impress, he is very popular with the female population. Always affable and debonair, he is a sweet-talker to almost every woman he meets... with the notable exception of Valory. Being Valory's childhood friend, he sees and treats her as his little sister. Because of their close relationship, Valory is the only one who can truly get under his skin and see the easily-flustered person underneath the cool, confident exterior.
Ivory:
Age: 22
Height: 170cm
A family friend of Eric's, this energetic, mixed-raced girl serves as his confidant and sibling, as well as the circus crew's unofficial mother. Her family has had a long history in the circus, and she is eager to uphold this tradition. Though Ivory is usually very motherly and upbeat, her temper is short and she flies off the handle when someone is careless towards their health (though she neglects her own just as often). She follows her instincts more often than not, and they tell her that Levi is dangerous.
Ivory is Valory's fellow flier for their upcoming performance.
Levi: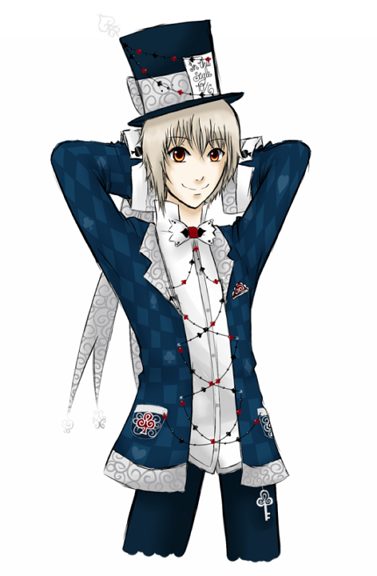 Age: 17
Height: 160cm
Perpetually smiling and forever acting the child, Levi is the circus' vivacious knife-thrower. Generally well-liked by almost all he meets, his cheerful, charming attitude masks the cold, manipulative side hidden underneath. Playful to all, and teasing to the few he likes, Levi is a social butterfly with a malicious streak. His sneering, patronising side rarely appears, and only with close company, but is quickly covered up as a joke. He is Keith's friendly enemy, Alice's object of worship, and Ivory's greatest fear.
Genevieve:
Age: 47
Height: 170cm
Eric's graceful and prominent retired mother, Genevieve travels the world at her leisure, stopping by to check on her son and the circus' workers occasionally. It so happens that this time, her vacation has been close to the circus' site, and so she has taken it upon herself to supervise.
Genevieve is quite strict and by-the-book, but never loses her temper and aims to educate in a prim and proper manner. She has a soft spot for young children, and so took a liking to Valory, Nathaniel, Levi, and Alice despite the latter's vices.
Alice:
Age: 17
Height: 158cm
Childlike in thoughts, behaviour and looks, Alice is Levi's partner, working as his target girl. Accustomed to being spoiled and getting what she wants, her attitude tends to come off as snobbish and pretentious. She feels that the only two people she needs are Blair, and most of all Levi, whom she is sweet and devoted to. She has picked up a bit of Levi's manipulative charm, but rarely uses it because she doesn't care for anyone else's favour. Nathaniel and her do not get along well, and bicker on sight.
Blair:
Age: 20
Height: 168cm
Carefree, a little spacey and friendly with almost everyone she meets, Blair is both Keith's assistant and the person Valory shares a trailer with. Friends with literally everyone in the circus, she is extremely affectionate to people of both genders, with little idea of personal space. She enjoys helping people, and so is Valory's main guide through circus life. Forgiving and highly persistent, these are the traits that helped her eventually gain Alice's friendship. Her warm personality makes her popular with the younger circus children.
Nathaniel (Nathan):
Age: 14
Height: 150cm
Ivory's grumpy younger brother, Nathaniel aspires to follow in his sister's footsteps to become a flier. He is usually very serious and straight-laced, so may appear to be a bit of a wet blanket. His sister enjoys teasing him immensely due to his feminine looks (but certainly not in personality), but he simply cannot bring himself to talk back to her out of a mixture of politeness and affection. Nathaniel is usually the one to call out his sister on her hypocrisy, and pull her back into line. He dislikes Alice and attempts to avoid her.
Nathaniel's highly stylised clothing was obtained during a recent trip to Japan before the circus auditions started.
-------------------------
Staff:
Sprites, CGs and background: Tag-
Programming and interface: Schizanthe
Writing: Tag- and Schizanthe
Design: Tag- and Schizanthe
Music: Schizanthe
(Two-person team dear lord)
Planned CG count: Over 40
(Kill me now please OTL)
Endings: 12 in total
-one good and bad ending for each character
-one neutral bad ending
-one neutral ending
-one neutral good ending
-one secret ending
--------------------------
Phew, now that that's over, I can ramble 8D
This project was planned by Schizanthe and I, and we've researched thoroughly for this for a good 4 months. (It was fun going to an actual circus, and the behind the scenes footage we found was gold too <: )
Just a warning to everyone, progress on this will be extremely slow, as both Schi and I are entering our senior year in 2012, so I hope you'll be patient
I also won't be updating every little milestone, so even when it appears as if this project is dead, I assure you, neither of us have any intention of giving it up~
Since this is our first game (and neither of us are fantastic writers) we will be focusing more on character interaction rather than a solid plot line.
Er, if for some reason Google translate has failed us, please feel free to correct us on our gratuitous Italian :'D
--------------------------
Schi and I would like to know your thoughts so far~
Favourite character based on looks/personality?
Initial thoughts about the game?
Questions/Suggestions?