Death_Hug: Yeah, I am.
Most of the reason why the Korean's so precise is also that I didn't want to write 'your mom is a dog' or something accidentally.
Lumen_Astrum: Glad you like it! The binary on her shirt reads 'Freedom'.
15385bic: Thanks! And yeah, I could do that.
Veniae:
I figured that throwaway line about detention wasn't for nothing.
Taleweaver: Yeah, I liked how Astelli looked slightly different in closeup depending on certain choices and wanted to draw it. I could still draw something else for you though.
Dee: Thanks! I'd prefer a 'damn son' though. XD
NatsukiDeath: Sure thing!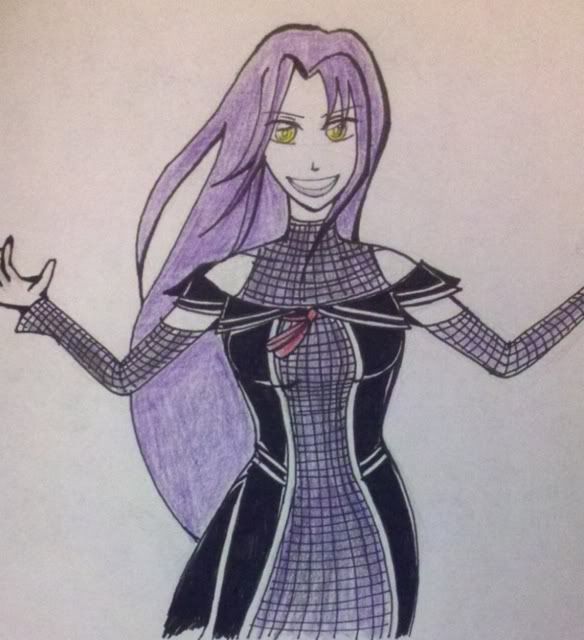 I never draw women with absurdly long hair and I think it shows. For whatever reason when I saw her I thought 'deadly spider-woman'.
I'm not entirely happy with the color scheme I gave her, but I hope the DEMONARM makes up for it.
_________________
Forever Alone: Nerds the Gathering
- A brotome game. (Still editing/rewriting things! 4/2)
Night at the Hospital
- Maiden voyage of Team Snugglebunny
Skylessia: Tale of the Boon
- Epic fantasy whatsit, currently on hiatus.
Viking Pipsqueak Productions Blog
(under construction)
I occasionally frequently draw other people's characters.
Now offering delinquentization, medievalization, and cyborgification. Hit me up in PM if you want sprites for your KN or non-ren'ai VN.
EVEN IF THE TENDONS OF MY THUMBS TEAR INTO NOTHINGNESS, EVEN IF I GO NEARSIGHTED FROM STARING TOO HARD AT THE SCREEN, EVEN IF MY BODY IS CLOSE TO COLLAPSE FROM THE 72 HOURS I HAVE GONE WITHOUT FOOD! I WILL DEFEAT YOU!