Taleweaver: Yeah, the background and the flavor of the merchant scene really brought to mind India/the Middle East for me. I figured he inspected the Ducatacor a little more closely than normal.
Alphonse: Thanks! I'm glad that you enjoy the badass manliness, it's part of what I opened this thread to indulge in in the first place.
As for the scanner, I wish I had one. D: That + a working tablet pen and a monitor with better resolution are on my wishlist
along with the ability to draw perspective and hands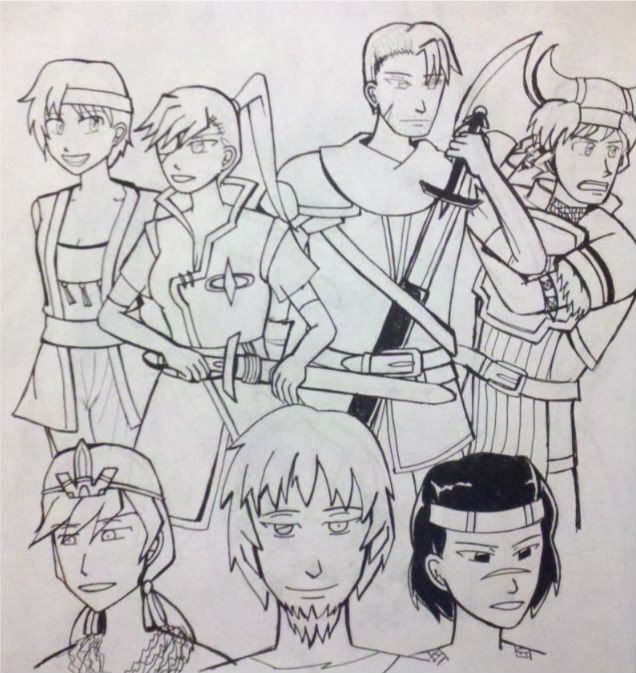 My paltry attempt at drawing an epic poster-style/group picture deal with characters from my Skylessia VN. I left it uncolored in case I do ever find a scanner/get the inclination to digitally color it.
I do need practice doing group pictures, so if anyone really wants to kill me they can go ahead and request a small (two to three character) one.
EDIT: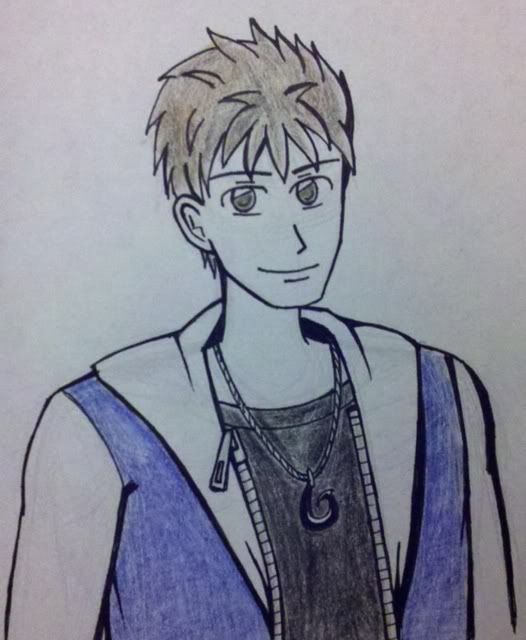 My idea of a generically appealing male character that is also my attempt to draw at a larger scale than usual.
Here is the Omni-needs-to-practice-CGing version. His name is Reed. He lives in a boardwalk town and sells t-shirts to all the tourists during the summer and makes fun of them in the back office when he knows they can't hear him. He is Greg's cousin from his uncle's first marriage, though his mom remarried since and they look nothing alike. He has a small business customizing people's sneakers with cool graffiti and tattoo-inspired designs. He will never appear in anything.
EDITEDIT: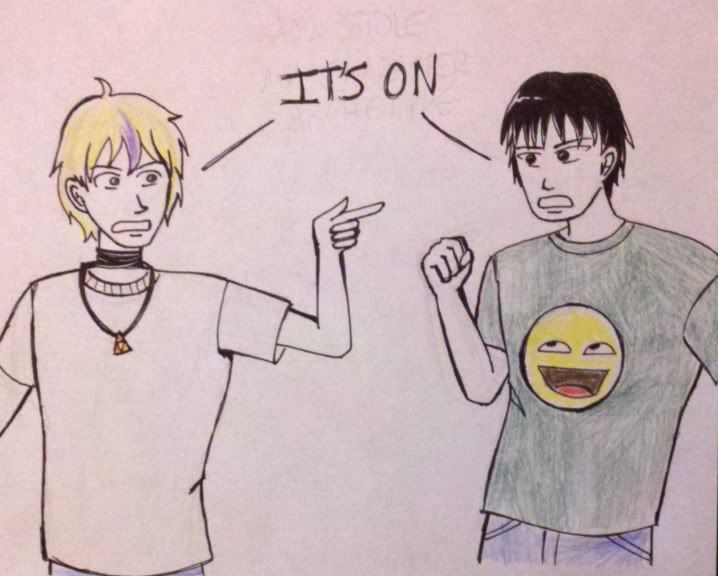 From the sent text message history of Jeffrey Cho:
"
yo dawg
"
"
I heard you been homing in on my lovable-nerd turf so fore this gets out of hand lets settle it
"
"
4 AM tomorrow
"
"
Bring replica sword and or lightsaber gamecube controller and a DDR pad
"
"
Best two out of three
"
"
PS obligatory insinuation about your mom and by extension your parentage
"
EDITEDITEDIT:
So I tried to digitally color my drawing-photograph this time, using flat colors/a bit of pattern-brush. Tell me what you think.
_________________
Forever Alone: Nerds the Gathering
- A brotome game. (Still editing/rewriting things! 4/2)
Night at the Hospital
- Maiden voyage of Team Snugglebunny
Skylessia: Tale of the Boon
- Epic fantasy whatsit, currently on hiatus.
Viking Pipsqueak Productions Blog
(under construction)
I occasionally frequently draw other people's characters.
Now offering delinquentization, medievalization, and cyborgification. Hit me up in PM if you want sprites for your KN or non-ren'ai VN.
EVEN IF THE TENDONS OF MY THUMBS TEAR INTO NOTHINGNESS, EVEN IF I GO NEARSIGHTED FROM STARING TOO HARD AT THE SCREEN, EVEN IF MY BODY IS CLOSE TO COLLAPSE FROM THE 72 HOURS I HAVE GONE WITHOUT FOOD! I WILL DEFEAT YOU!