I promised myself that I will fall for the right person at the right time, but ever since that fateful day we met, the promise of falling in love at the right time shatters...
My twin brother died just before I met you, I wanted to punch myself for falling in love at such a wrong time, but whenever I see your smiling face, my anger drowns in my ridiculous feelings for you... However, little did I know that behind that charming smile, lies a deadly demon.
Whoever knew I'd break my promise of falling for the right person as well?

Logo credit to Auro-Cyanide
You play as a girl named Alexandra "Alex" Forbes, a simple and ordinary girl with a twin brother whose name is Alexander "Zander" Forbes. Both of them grew up with a mom who was a former piano prodigy, so both of them grew up as great piano players. Alex's twin brother became the keyboardist of a famous band, Midnight Havoc, while Alex ended up studying in college. Misfortune came to the twins because Zander ended up dead in his sleep, the band's manager, Gregory Parker, was the first one to discover Zander's death, he asked his uncle to give Zander a very private and unknown funeral and he decided to keep it as a secret to avoid controversies and mishaps, he told the other band members that Zander went on a sudden vacation to visit his
twin's
funeral.
Gregory thought that "Alex" Forbes was a boy and he decides to visit their house, tell them about Zander's sudden death, and ask "Alex" to replace Zander as the band's keyboardist. He then visited the Forbes family and he was surprised to see that "Alex" was actually a twin sister, not a twin brother. However, he still decided to ask her to dress up as a boy and replace her brother. At first Alex didn't want to agree and refused. The manager leaves dismayed, but he still told her that he'll be back, and see if Alex will change her mind. Alex told him that she will not, but a certain dream did.
Zander visited Alex in her sleep and told her; "I did not die out of purely natural causes, sis. I died because I was murdered." Zander told Alex that he didn't know who did it because he just woke up and drank some water and then after a few minutes he started to have difficulty breathing and the next thing he knew, he had stopped. Alex woke up minutes later, even if it was all a dream, she believed what her brother told her, and decided to accept Gregory's offer in order to find out who murdered him.
She suspected four people the other band members and Gregory. All of them are obtainable and as she tries to pursue them she'll discover a very big secret and one of them is actually the murderer, the one who holds the secret of death.
Will Alex be able to find out who the murderer is, will she be able to find out the one who holds the worst secret of all while finding love in the way? Or will she fall in love to her brother's killer without even knowing it?
It's all in your hands.
Character Bio! and images are now put up, thanks to machinist! God, she works real fast that I'm shocked!
Alexandra "Alex" Forbes
<--->
Hi! My name is Alex Forbes. A lot of people think I'm dead, but in reality its Zander that's dead not me. I was only asked to dress up as a guy and cover for him. I know you're asking me why I did such a crazy thing... Well, here is the reason; I don't know how or why, but Zander visited me in my sleep and told me that someone murdered him, and for some really insane, unexplainable reason I believed him! And now here I am trying to find the murderer.
Oh, and if you're wondering how I'm pulling it off, Acting like my brother is the easiest thing to do, the wig is very itchy though. (I decided to wear a wig, even if Greg strongly disapproves it, because there is no way in hell that I'm going to cut my long hair, it took me a lot of years to be this long and beautiful so I'm sticking with wigs.)
Anyway, here are the suspects.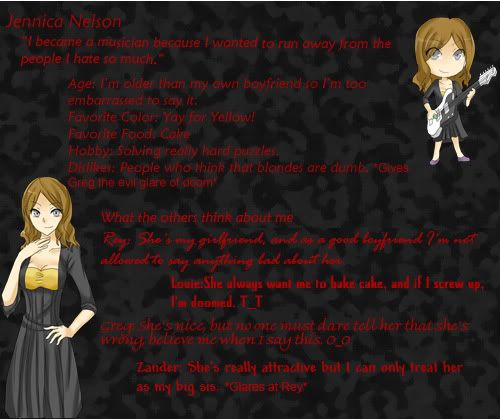 The band's guitarist and Rey's girlfriend.
She's overly friendly with me, causing me to fear Rey even more, he told me that ever since I came back from my "twin sister's funeral" she started being like that.
Maybe she knows I'm actually a girl? Nah I don't think so, I'm really good, and Greg always helps me with covering-up.
The band members seem to like calling him Greg, so lets stick to calling him that.
The only thing I find suspicious about him is, that he was the first to discover Zander's body and I wonder why did he keep it a secret? Besides the reason "to avoid controversy". And most of all why did he tell mom and dad that Zander died in his sleep?
Anyway if you want me to describe him, Greg is the most annoying man on earth! Other people think he is oh so serious but in reality, he is not, he likes teasing me with such embarrassing things!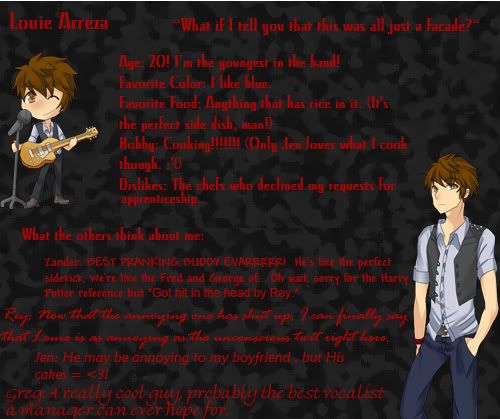 He is the lead singer and the band's bassist.
He looks and acts happy all the time, it's that thing about him that makes me suspicious. He seems to know a lot more than he lets on.
Anyway, he is a real nice guy he likes to smile for no apparent reason and he loves to cook for us, (But for some reason, the guys hate his cooking) He likes to ask a lot of questions too.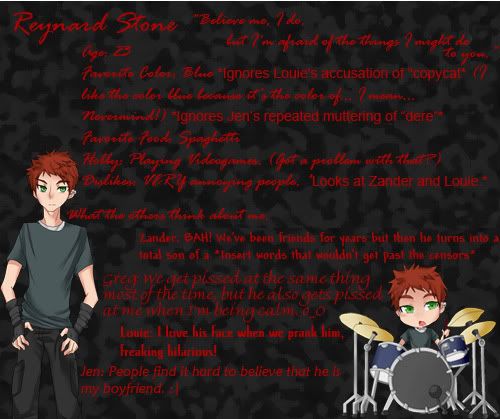 The drummer, he has a lot of fangirls but he already has a girlfriend, our band's guitarist.
He really is hot-headed and he scares me a bit, I don't know how Jennica manages to endure him.
We used to be so close.... I just don't know what made him change.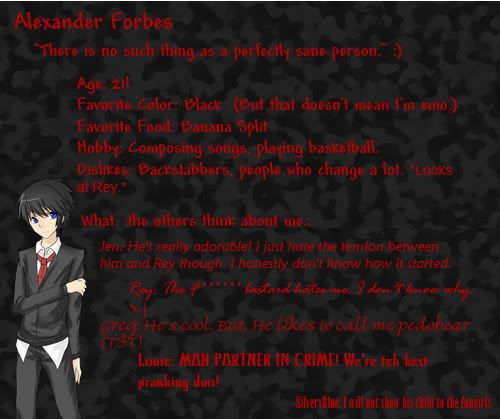 My Younger Twin Brother, even if I was the one who came out first, he likes to think that I'm actually the younger sibling.
He's generally sweet, a little annoying, but really cool. I don't understand how someone could just... kill him.
*********************************************
Writer/Programmer: Me
Sprite: machinist
CG Artist: wingzodarkness
CG Colorist: Me
Musician: Konaa, senhiro
GUI(Yes, I have given up on it) - OdysseyStudio
Beta-testers/Proofreaders: azureXtwilight, Lumen_Astrum, HikkiPanda, RemnantDream, Kimiko, Celestie, wingzofdarkness
Thanks to Camille for giving that awesome and fitting band name!
Story-80%
Script-36%
Sprites-95%
BG-70% (All of the BGs I have are only from the net.)
CG-5%
BGM-75%
Screenshots~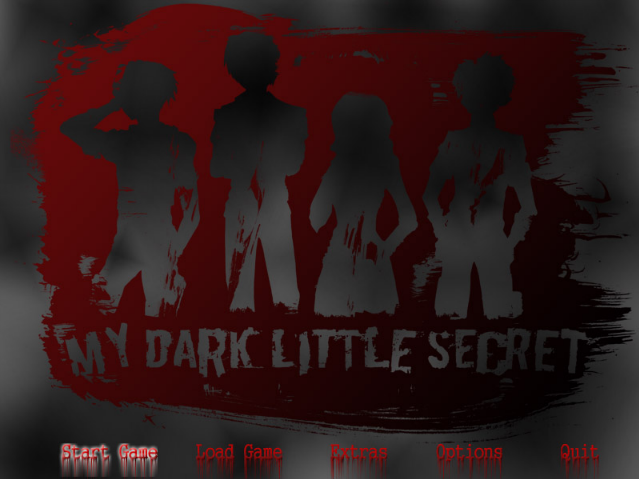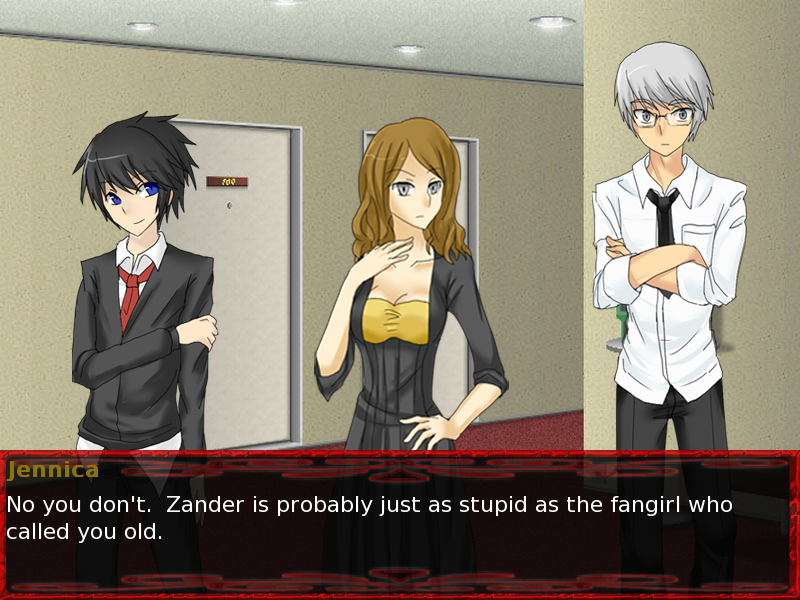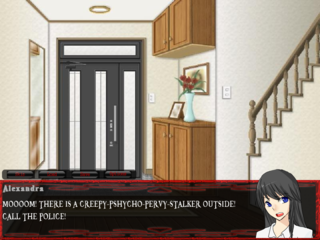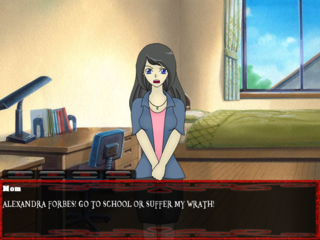 Please feel free to ask your questions, and please don't hesitate to give any suggestions that will improve this game. ^_^