*This project is still very much in development… I know the idea isn't very original, but I hope you well give your feedback and opinions on it! Sorry I'm not a great artist, and I'll try to update it real soon!
.
Alice Liddel lives a mundane life within the walls of the family's estate. Not needed, life is filled with meaningless lessons and hollow words. Upon chance (or perhaps not quite) they find themself in Wonderland; a world where many inhabitants do not hesitate to show their hostility towards the 'wrong' Alice.
-Chose as either a boy or girl Alice
-Multiple romancable boys for either gender
Chracters (to be updated(Designs are still currently in sketch phase))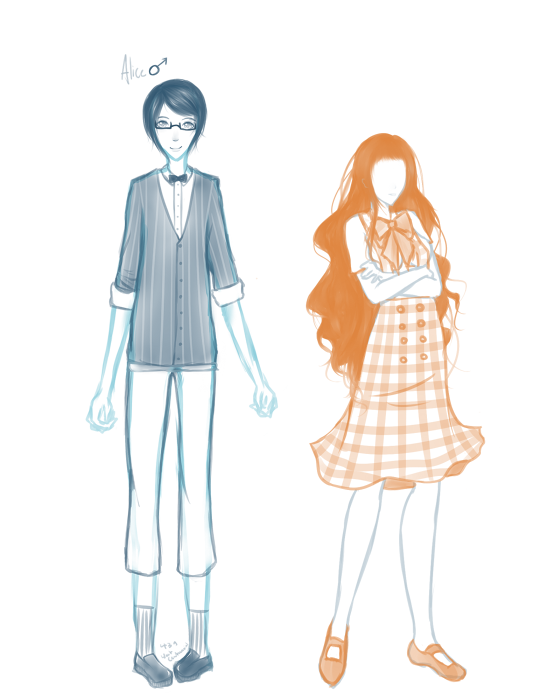 [MCs]
Alice ♥
"A silly girl you are, thinking your words mean anything to anyone."
Her only duty in life is to marry into a well-off family. Unlike her adored elder sister who is her parents pet, Alice is left much to her own devices and rarely comes in contact with her family. Despite the many attempts to wed her, her suitors often complain of vulgar language, unladylike manners, and most of all, her own opinion. She's not even an adult yet, but her family is disgusted that she is not already engaged. They threaten to send her a nunnery if she is engaged within the year.
Alice ♠
"Do you really believe, that everything will just fall into place? You fool."
His intelligence is his virtue, and as many say, his only one. Despite that though, he has been engaged to one of the neighboring estates daughter since before he could speak. Though kind, many say he appears aloof, and above all, air headed and dreamy. Often instead of attending to important papers he wanders around the estate. His father never ceases to express his disappointment in his sons attitude and achievements.
[Others]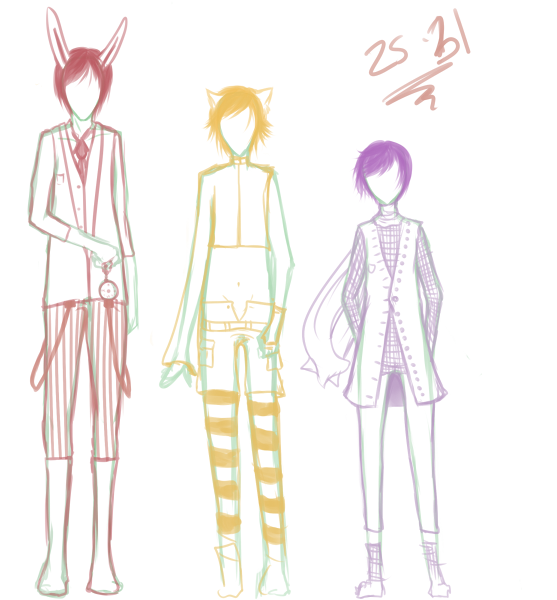 Hiram - Theron - Dum
Hiram
"She picked that fool over me. And every time I look at you, I desperately try and picture her. I don't doubt my instinct, since I am not an imbecile; you are indeed her reincarnation, and things will be as they should have been."
Hiram detests Arlie more than he enjoys people begging him to let them live. The judge of the Court of Wonderland, he has never said 'not guilty' in his time as the judge. Always precariously early to meetings, he feigns for the last Alice's affections, which she had instead bestowed upon Arlie, making Hiram feel inferior to the coffee addict.
Theron
"Such a beautiful scent you carry. Does that sound weird? It's not like death like the rest of us though; it's more like pain. A being like you should be allowed to live; though I doubt he will."
A boy who, unlike most, feels guilt about death. He's a wandering soul though, and his stealth skills are some even the most recognized assassins envy. Dum hangs around him, and Theron often appears to dote on him trying to protect him from what may harm; sometimes, which is Theron himself. The higher the death count his creates, the more distant he becomes.
Dum
"You people named Alice's are always so—what's the word? Ah, perhaps stately? Words were always Dee's gift. Have I told you about her yet?"
Young, but perhaps just feigning naivety, Dum often rambles about his sister. Though no one ever expands on what happened to her. Whenever he speaks of her and him together though, he gives it a slightly beauty and the beast-ness to it. Theron is often keeping Dum from what seems like just careless accidents that could result in a tradegy.
Arlie - Valkeri - Reuben
Arlie
"You look like a wench. You walk like whore. You breathe like a bastard. I'd say the only thing you and her had in common is that silly little name you took on. Other than that, you're useless."
The self-proclaimed king of tea, despite his preference for coffee. He enjoys luring unsuspecting visitors into his large outside garden where from the tea he serves is laced with many poisons. Many say that his only enjoyments in life since Alice left in inflicting pain on others. He wishes nothing more than to end as many lives as he can.
Valkeri
"Tell me, are you all you Alice's the same? Desperate it to be right, to be the hero of this story? So much so you are willing to frame innocent people and lie, to get the ending you desire?"
As the son of the late queen of Hearts, he's desperately trying to return honor to his country. He swears though despite what has been accused of his mother, she was in fact innocent. He takes precautions everywhere, often barely escaping attempts on his life. He dislikes associating with people, being able to see they are either trying to get close enough to kill him or try and receive his fortune.
Reuben
"You want to go home? But if you really did, would you be here in the first place? Either way you have no say; even your choices have already been decided. Just sit back and enjoy the show."
The peculiar man who lives within the clock tower. He openly admits to not knowing how to repair clocks; only how to keep them running and the little sanity the residents of Wonderland have left. He neither encourages death nor does he discourage it. Whether he likes it or not, Dum and Theron often visit him, usually stressing him with the fear that they may break something.
Please, critique and suggestions on basically ANYTHING are welcome C: