All right, I'll bite.
Preferred Role(s): Writer and Sprite Artist
Core or Chill Member: Chill, but willing to take two roles
Skype: Will PM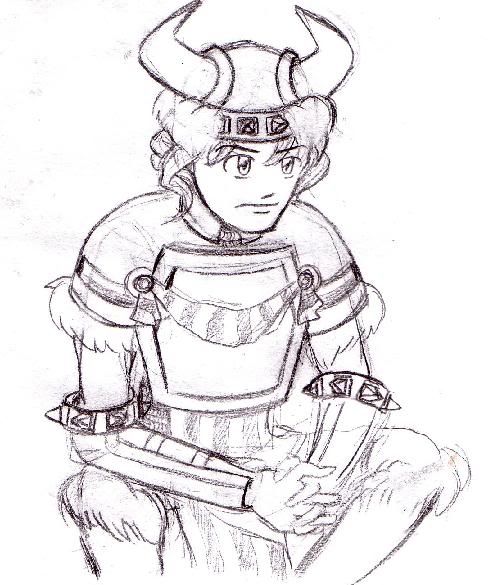 Name:
Ellis Nineveh
Age:
16
Gender:
Male
Description:
Red, curly hair, gold eyes, short, Viking. Given to scowls, grins, and horrified/shocked expressions in equal measure.
Role:
Misguidedly working for whatever villains this thing has, little brother everyone picks on
Personality:
Hotblooded, brash, earnest lad with axe murderer tendencies and a dedication to a thoroughly backwards code of conduct only he seems to understand. Acts first, makes excuses later. Tends to get into rivalries with half the people he meets. Literate, or so he claims. His ability to get tricked very, very easily is balanced out by his unholy levels of persistence. He takes himself far more seriously than anyone else does.
Keeping or Donating?:
Keeping
Other:
Ellis's weapon of choice is an axe. This is because all other weapons are for sissy sissy fairy-men who prance around and wear soft girly things, like silk or cotton. Though he would like to learn how to set people on fire with his brain and turn into a dragon, he has absolutely no capacity for magic whatsoever.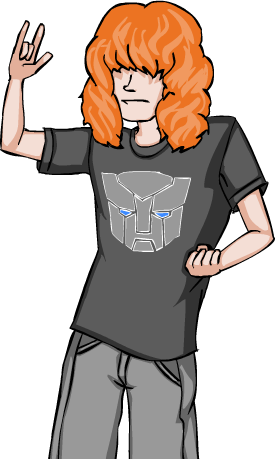 Name:
Gregor Donovan
Age:
18
Gender:
Male
Description:
Ginger, curly shoulder-length hair (ffff), somewhat oversized black t-shirt with any kind of robot or metal-looking thing on it, grey cargo pants. Skinny as a rail and short as a particularly short piece of rail. If he has eyes, no one has ever seen them, or at least no one living has told the tale. In fact, his eyes will probably be a MacGuffin somehow.
Role:
Obi-Wan/straightman/berserker
Personality:
A stoic man of few words who is occasionally affectionate in a subdued, big-brotherly way. Deadpan, realistic, and matter-of-fact. As long as you don't make his blood boil with enthusiasm for robots that defy the laws of physics. Or symphonic metal. Or disrupt his concentration when he's focusing on a game. Or get in his ill-defined blind spot. Okay, so any number of things can set him off into a fiery stereotypical Irish rage, but for the most part he is pretty chill.
Keeping or Donating?:
Donating
Other:
Preternaturally strong while in berserk rage, though he can only access it in short, 5 second bursts, after which he acts as if nothing happened. During that time he gives off a flaming aura that, while not actually dealing any fire damage whatsoever, has been known to freeze lesser men where they stand, so paralyzed are they from fear. Whatever is under his bangs is the subject to many a legend and grim tale.
If this is one too many hotblooded Irishmen I can switch one out. <_<
_________________
Forever Alone: Nerds the Gathering
- A brotome game. (Still editing/rewriting things! 4/2)
Night at the Hospital
- Maiden voyage of Team Snugglebunny
Skylessia: Tale of the Boon
- Epic fantasy whatsit, currently on hiatus.
Viking Pipsqueak Productions Blog
(under construction)
I occasionally frequently draw other people's characters.
Now offering delinquentization, medievalization, and cyborgification. Hit me up in PM if you want sprites for your KN or non-ren'ai VN.
EVEN IF THE TENDONS OF MY THUMBS TEAR INTO NOTHINGNESS, EVEN IF I GO NEARSIGHTED FROM STARING TOO HARD AT THE SCREEN, EVEN IF MY BODY IS CLOSE TO COLLAPSE FROM THE 72 HOURS I HAVE GONE WITHOUT FOOD! I WILL DEFEAT YOU!