Clua posted what I wanted to, some really great reference for walks.
I did want to show you where you're having troubles with your walk specifically though, so I made this for you:

(hopefully this cycles right...) Huzzah!
So here's what I did: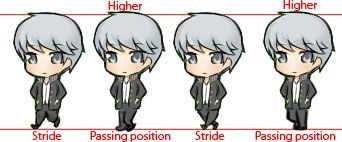 I took your two frames that you already did, which have his legs extended to their widest. This is called the 'stride' position. I lassoed his torso, and copied it onto a new frame. You can see in the examples that Clua gave how the body rises and falls during a simple walk animation, with the highest point usually at the 'passing position'. This is when the leg that is taking the weight is fully extended, and the other leg is bent at the knee and passing in front.
In the Preston Blair example, the 'movements of the two legged figure', it's the fourth one in the walk.
Haha, shows what I know! Richard Williams (the second example) says the highest point is *after* the passing position. But since I've only used four frames, I figure we're good with this.
I don't know if there was a technical limitation that meant that you needed to reuse the standing frame, but it really won't work in your animation at all. You can jigger those three original frames around to your hearts content, and the one foot will always 'pop' the wrong way.
Really cute character! Hopefully this helps!
EDITED TO ADD:
He's just moving along really fast! Each drawing is only on screen for two frames at 24fps, so I'd probably try holding each drawing for three or four frames, and see how that looks.