Camille wrote:
Just a note that if you google GUI/interface elements, you can usually find a lot of nice stuff for free. I personally like going through Japanese games and seeing how they do their GUIs... I put a lot of screencaps in a big "VN GUI case studies" folder. For example, I'll often look at
something like this
and analyze it. What's good about this GUI? What makes it stand out? How accessible is it? Even if I'm not necessarily designing the GUI myself, it helps to have examples that I can maybe send to Lazcht for her to use as a reference.
I buy a lot of graphic resources from
Graphic River
because they tend to be higher quality since they're premium, but I dig around for free stuff, too. Just make sure you're careful about resources' terms of use.
Premium Pixels
has some nice icons and buttons, and textures from
Elemis
and
Hybrid Genesis
are very useful. I also quite like
Designmoo
.
/o/ I'll post up some actual WIP GUI stuff once I start working on The Elevator towards the end of this week, but maybe that helps someone a bit.
Oh wow! Thank you so much for the links! I think I will separate a post for linking sites like such.
Its good to know that you actually research for what you would like(believe me,
most of people
who commish things dont do that haha)
I can see now why your GUI s are that nice, even if you dont directly design them.
Camille wrote:
@DaFool:
In my opinion, the GUI doesn't need to be super fancy, but it does need to fit with the overall theme of the game and go with the art direction. For example, the RisAmo GUI wouldn't fit in BCM and vice versa. A lot of Japanese VNs use a rather simple style for their GUIs that's very easy to replicate, it's just that the GUI fits the game well.
To me, when I see the default Ren'Py GUI in a game where the art and writing are more elaborate, I get the impression of carelessness on the part of the creator. It's really not that hard to at least change the colors a little bit or use a different font. Use the recent TKOT as an example:
The GUI in TKOT doesn't stray that far from the default. For those of us who have seen the default Ren'Py GUI over and over, it's easy to see that clua hasn't changed all that much. HOWEVER this style goes very well with her game! The colors match the theme and the GUI is both functional and customized enough that it looks rather stylish. It shows that clua put some thought and consideration into it; her GUI isn't jarring like it would have been if she'd simply used the default.
(sorry for using your GUI as an example, it just sprung to mind first! ;; )
º////º lol I wish I could knew back then how that worked ahaha, that have the deffault colors of the Aleema tutorial orz
I agree, A good GUI doesnt have to be super fancy. But at least I would apreciate that the default ren py layout would be changed.
I find simplier minimalistic GUIs the hardest to pull, I think a lot of facts like composition and color theory goes much more then than in
a regular GUI.
Well I been working on this one: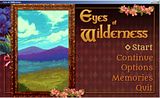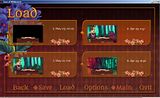 (please dont laugh at the name of my game, it cost me a lot to think that orz)
Again Im no graphic designer, so its most likely this needs to have a revision(An auto critic would be that the menu choices are way big, I did them before the title, now I feel the compete-)
The settings and quit screens are not customized yet-(I posted them for the
lulz
)
I think that the GUI express all the style of your game, for example, the setting of my game would be in a sort of medieval world, I chose to add some celtic ish air on it
(Not so much, because its a world inspired on ours, but is not earth ahaha)
The story talks a lot about beauty(lol) so I added some kitsch stock images(vintage ones) to decorate it.