EDIT: I have edited this post due to its previously very confusing, rambling nature, and have boiled it down to the essentials.
Shrinkled:
You, Mandy, are an ordinary girl. However, one day, something happens that changes your life.
What is it, you ask?
Did you win the lottery?
Nope.
Are you secretly a princess?
Sorry.
Do you fall into a vat of radioactive waste and suddenly gain abilities that make superman weep?
You wish.
Unfortunately, none of these things happen.
What
does
happen is that you accidentally get caught in a science project's misfiring range, and get shrunk down to a quarter inch in height! The student body president, Jake, is caught in the crossfire with you. Working together, you must find a way to reach normal height by the end of four days; else you remain shrinkified forever! With the help of bugs, crumbs, and possibly a grumpy old mouse, you just might find a way out in time...
EDIT: I found a few mistakes; the most major being that sometimes it says "three days" of vacation, when it should be four. Sorry guys; I'll update this when I find all the bugs.

You will want at least a very rudimentary understanding of renpy and and a cursory knowledge of lemmasoft forums to play.
It's pretty basic, so as long as you know, for example, who PyTom is, and what the Fantasia VN series is, you're probably good to go. If not, if you really want to play, you can probably make out on process of elimination.
Almost all the answers can be found on this forum; I've checked them myself.
As fleet helpfully pointed out, some people might not know much about this, and might be a waste of time to play. A very large part of the game is trivia, which is mostly about this community, VNs, and renpy. Knowing certain facts will help you, but they are not necessary to understand the story.
If enough people want it, I may put up a second version with more universal questions.
EDIT: Version 2 now up.
Rated G
VERSION 1
The game contains 722 screens of dialogue.
These screens contain a total of 5,018 words,
for an average of 7.0 words per screen.
The game contains 20 menus.
Technically 5 endings,
but really, 3 with one shared extra scene in the last two if you play it right...
VERSION 2
6 endings...
Sneak peeks!
What's under the sheet?
Giant desks. Giant insects. Giant piles of paper. Yikes.
Do you really want to know?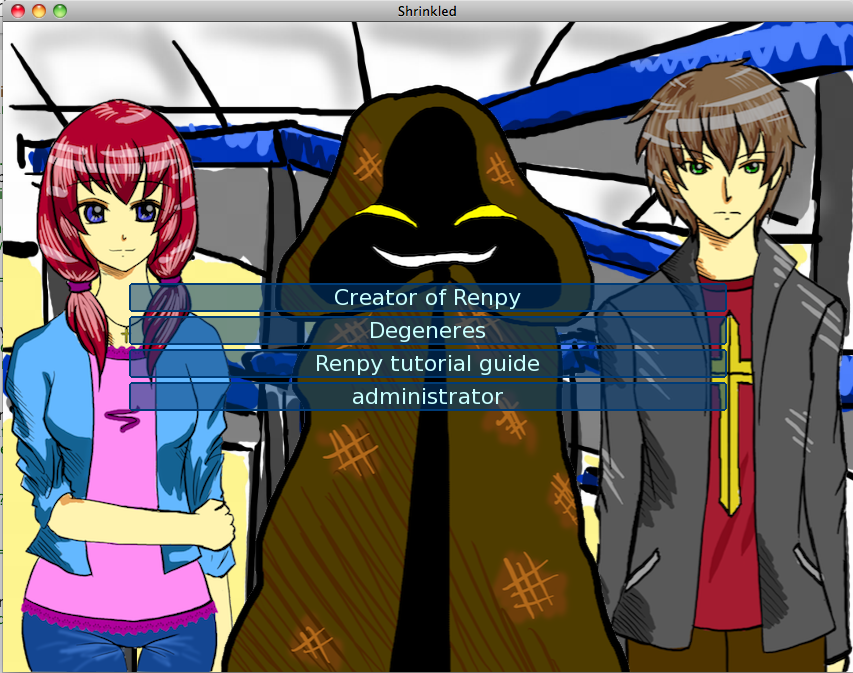 Have fun; I hope you enjoy this game!
EDIT:
Here's the updated, non-lemma version of the game.
P.S.
I would also appreciate any feedback; it's my first time putting out my own game here. If you see grammar, spelling, or logic mistakes, please don't hesitate to call me out on it; I'll fix it as soon as I can, and hopefully come out with a more polished version.
I did this within 30 hours as a sort of dare to myself that I could do it...