Weeeeee~ Finally finished my first project!
Now a little summary for the plot (copied from my WIP page, I'm too lazy to write a new one XDD):
The Lycia region, surrounded by massive, impenetrable mountains. This place was isolated from the world outside. The mountains were too high for most flying creatures to be able to cross them. And below the mountains are filled with adamantine, the hardest mineral in the world, making it almost impossible to get in or out via underground.
Belle, a Chimera living on Lycia region was enjoying her usual peaceful life. Until one day, she met a Harpy from outside of Lycia. The Harpy asked Belle to help her to find the source of unnatural earthquakes that affected the world outside. Little did Belle know that this meeting was going to change her peaceful life into a chaotic one.
Some statistics:
The game contains 997 screens of dialogue.
These screens contain a total of 5,447 words,
for an average of 5.5 words per screen.
The game contains 0 menus.
And screenshots: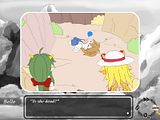 added MF link if you couldn't download from here:
http://www.mediafire.com/?7q2a92shap2iicr
*To enjoy this game to full extent, I advise not to click too fast (except if you have fetish for mouse click, I can't help you with that XDD) since it will skip most of the animations*
Now I want to work on the 2nd Tale soon