Yes, it's finally reached its official launch date!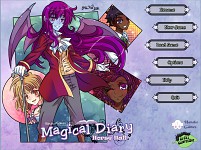 Magical Diary Webpage
What you get:
Customisable main character (you can see some that people ahve made so far here on the
online yearbook
)
Five full romance paths (GxB and GxG)
Over 70 spells to learn - and they DO things, they're not just stat boosts
Lots of dungeons to explore, and every puzzle has multiple solutions
Tons of secrets and trophies to unlock
Full text comes to about 150K words, my biggest game yet...
Discount on the full game if you blog about it!
And lots of other stuff that I could go on talking about all day because I've been living this thing for a year now. Don't make me talk at you, just go to the webpage and watch the trailer and play the demo!
Several people from this forum have been in on the playtest for a while now, so hopefully some of them can pop up and tell you about a few things they've enjoyed too.