"Feelings are, as they say, forever."
It was once the land of dreams, feelings and happiness.
The nation filled with smiles and joy.
Where each person learns how to dream, and strive for it.
Where tears were an expression of a freedom to express a sorrow long kept in the heart.
Where memories are treasures greater than any more jewel.

Unfortunately, that was a long time ago.

Now, the effects of war and tears in the nation had brought on a world without feelings and memories.
No one knows what feelings are, except for very few people.
No one dared to be sad, to be happy.
No one knows how to dream or reminisce a memory.

Dreams, memories, tears... these things are considered a sin.
A sin which only few people know about and can do freely.

Happiness is temporary.
Dreams will reach nothing.
Tears are a sign of weakness.
Feelings caused despair and hurt.

It was the feeling of singing a one-note song.
And one girl breaks the silence.
Once, when the chance showed up, Sirius risked everything to get once into the records room to get one piece of data she wanted, which is the identity of her parents. This ruined her life, as she was caught due to "stealing" of information and dealing physical injuries. She regretted everything she did in that day. But one year after her stay in prison, she had to be transferred to a different section of the prison area.
In there, she met Cetus, a "woman" who got her gender removed, and Daena Blackstar, a young appointed general who started guarding their cells as part of her training on "discipline". Little did she know they will be part on the next turn of events that will change her life...
As time passes by, her life gets worse as memories of long ago started coming to her, as if a lone spirit awaking from a long sleep. With the medium of dreams she was able to look at other people's hearts at the past... and on her own, which brought on the realization of what is behind her own mysterious past. The stories makes the past more tangling, more confusing... It triggers one event that will break each others' trust to everyone.
Characters
Sirius
A teenager, whom has been convicted of "information theft", and her genetic stature was disrupted, resulting on odd medical conditions, changing eye color and a side of her hair in a different color (her hair is white really). She has been convicted for a year until she has to transfer cells. She usually breaks the prison rules like laughing and cursing. Her body is able to wean herself off the chemical that erases memories, and as a result, her mind reminisces moments of other people from years ago through dreams.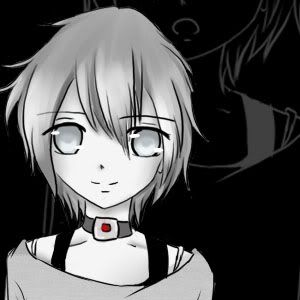 Cetus
A fellow convict Sirius met during her transfer of cells. She has been convicted of "illegal marriage", and thus almost everything of her femininity is removed, while her husband was killed by lethal injection. She is a bit harsh, and like Sirius, she violates the prison rules a lot. She
almost
never gives up. She was brought down to position by personal matters, until it came to the point that she does crimes herself. She was never caught, until she got married and the illegal marriage pact was broken when her husband was executed.
Daena
A general one rank lower than the head general (you can call him a 5-star general), which is her father. She was the replacement for the previous general who was killed by a highly guarded convict. Daena is kinder than the other generals, due to the fact she was trained to be a general by her mother, not her father. She is somewhat different from the other generals in terms of attitude, but still, she doesn't seem to trust Sirius and Cetus when she first met them...
Screenshots
http://fc02.deviantart.net/fs70/f/2011/ ... 4c5zor.png
http://i1234.photobucket.com/albums/ff4 ... ot0001.png
http://i1234.photobucket.com/albums/ff4 ... ot0002.png
http://i1234.photobucket.com/albums/ff4 ... ot0015.png
Credits
Preliminary Editor, Proofreader, Co-writer : night_serenade
Editors: Shadow, RemnantDream, Wright1000
Music : SENTIVE, Kevin Macloed, maestrorage (Newgrounds), Freeplaymusic, Rengoku Teien
Sound Effects : Youtube, freeSFX, SoundBible
CG Help : Nebi, Tag-
Background Artist : Mugenjohncel
Beta-testers : Tag-, shine, Kirroha, netravelr, Kaku-chan, azureXtwilight
Download
Windows Download
|
Windows Mirror Download (4shared)
Mac Download
Linux Coming Soon!
It might not be as awesome as you expected it, but I still hope you at least enjoyed it. XD