<---
*The panda links the creator's site*
"The problem with small, furry animals in corners is that, just occasionally, one of them is a mongoose."
Cheerful!Polymorph is now finished! Nearly everything was done/made by me (see below) but somehow, I did it. I did it with four hours to spare. And as note: this was meant to be more story-driven, but it ended up being more character-driven. Not too mention, there's, ah, not that much wacky weremongoose hijinks. There was supposed to be, but, yeah. Hopefully it's still somewhat entertaining.
STATS:
Code: Select all
The game contains 810 screens of dialogue.
These screens contain a total of 5,845 words,
for an average of 7.2 words per screen.
The game contains 0 menus.
Story:
Susan Hopkins, out of justified paranoia, bought an insurance policy in the even of any magical mishaps or supernatural problems. Joy of joys, it was a good thing she did, because she was turned into a weremongoose! Only, things don't go quite as expected when she tries to make her claim.
Characters:
Suzanna 'Susan' Hopkins - The main character who was turned into a weremongoose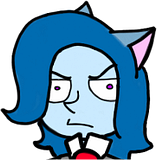 Derek - The insurance agent. He's a bit weird, as far as blue, cat-eared guys go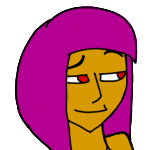 Becky - Derek's friend, and a skilled magic user
Candace - The witch
Screenshots (Click to Enlarge):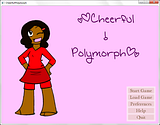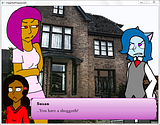 Download Here (All Versions):
Cheerful!Polymorph
Credits:
Art/Writing/Programming - Mink
Dialog box - Chorvaqueen
Backgrounds - Celianna
Music - Kevin MacLeod
(I'm sorry, I'm so sorry)
~There's a file in the game with links/sites/whatnot~
*For the record, KN = no choices. I think most of us know that, but I'll state that just in case.*