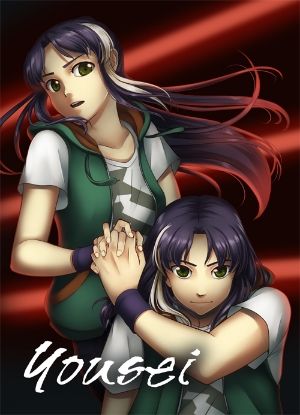 Buy Now:
Windows
|
Mac
|
Linux
Free Demo
Walkthrough
For the last few years Kangai has been a wanderer, but his return to his hometown has triggered a series of deaths linked to his past. With a bit of less than gentle prodding, he joins a group of psychic teenagers who solve mysteries under the watchful eye of the government. The group goes undercover at a local university to invesigate Kangai's history, but the sudden death of a professor sets them on a new course racing an old enemy for valuable information.
Yousei is the sequel to Jisei (
currently on sale for 50% off
), and Kansei (
30% off if you bundle it with Jisei
). While playing the first two games is not required, it is strongly recommended so that you can enjoy the full story.
Genre:
Supernatural, mystery
Playtime:
8-12 hours (with voices on)
Endings:
4
Rating:
13+ for depictions of blood and discussion of abuse
Staff:
-Writing, programming: Ayu Sakata
-Character design, art: M. Beatriz Garcia
-Music Composition: Marc Conrad Tabula
-Opening theme: Aural Wave
-Environment Art: Lewis Lane
-Beta Testing: Sarah Galbraith, Jané Peens, Marcel Weyers, Elsa Whitney, Darien A. Lee
Cast:
-Detective Gurski: Chris Niosi
-Aki Mizutani: Apphia Yu
-Naoki Mizutani: Micah Solusod
-Li Mei: Cherami Leigh
-Chance Jackson: Kira Buckland
-Aaron Vanich: Edwyn Tiong
-David Sawicki: Clifford Chapin
-Nathan Holm: Chris Cason
-Shawn Tasse: Kevin M. Connolly
-Jupiter Celedon: Erica Mendez
-Girl: Mindy Owen
-Marissa Klein: Melissa D. Johnson
-Woman: Karen Kahler
-Additional Voices: Greg Nugent, James Goins