All the best stories start, "Once upon a time..."
Once upon a time, just barely over one year ago, an under-employed engineer sat in his basement, drinking gin, and watching anime. "Why don't they subvert that trope? It'd improve the story." He thinks. Another drink. "I can write better than this!" Another drink. "Can't animate or draw, though...wait...Will, from work, is an artist..." A quick text is sent: 'We should make a visual novel.' A few minutes later, a reply: 'Fine. What's a visual novel?'
One year and 22 days later, we, Clayton Barnett & Will Deonne of 3-AR Studios LLC are proud to present to you, our dear friends of the Lemma Soft Community, the product of those two text messages:
OTChi

Kocchi

, and its two spin-off VN's: Chibi

Kocchi

, and N4
.
OK
is just shy of 80,000 words. There are four main characters with four unique paths. Nineteen secondary characters. Twenty-one possible endings. Hundreds of backgrounds and sprites. Music and sound effects. Even secret content and prizes to discover!
What started off as a rather typical
BxG dating sim
set in a
university hospital pharmacy
ended up in places we could never have guessed at a year ago. An exploration of loss and its aftereffects. The creation of a new company paradigm. A frenetic but fun adventure into a character's present & past. And, the existence of a secret society that has been playing with humanity for millennia. As a playtester quipped about a month ago, "Er...what happened to cute girls doing cute things at the Pharmacy?" Quite a bit, in fact!
Sometimes, I do wonder...from where we started...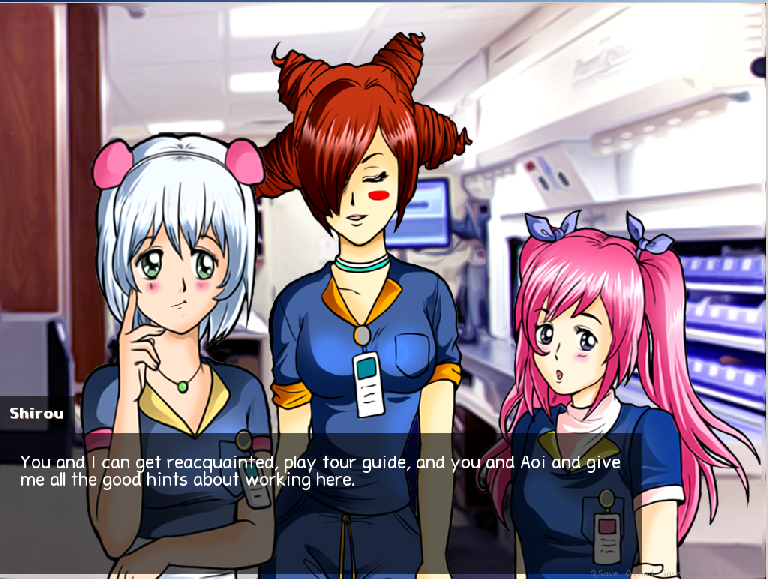 how we ended up where we did...
Nonetheless, it's been an amazing year. For those that assisted, thank you very much! We hope you enjoy!