Game Info:
Genre: Sci-fi Relationship Sim Visual Novel
Release Date: February 14, 2015
Rating: PG-13 for implied nudity, adult situations
Length: 4-6 hours (100k words total)
Endings: 3 (each with two variants)
Release Type: Free, open source

DOWNLOAD:
Steam
itch.io
Google Play

Project Homepage

Synopsis:
Newlyweds Jack and Kelly have come to colonize the Earth-like planet of Talaam, along with two hundred other brave pioneers. They thought their love would be strong enough to hold them together no matter how difficult the circumstances.
But love on its own can't regrow failed crops, repair broken equipment, or dig cellars. Love doesn't make one immune from wild creatures, diseases, or depression. Their choices will decide their fate...
Game Features:
Control Kelly's fate by deciding her work schedule, hobbies, and time with Jack
Interactive dialogue lets the reader decide Kelly's attitude and approach to every event, as well as major decisions such as having a baby
100,000 words of dialogue spread between 4 different jobs, 7 different hobbies, and 3 endings allow for a variety of playing styles and different playthroughs
A community of interrelated NPCs with their own motivations, families, and stories
Science fiction setting that blends modern technology and old-fashioned frontier improvisation
Open source code licensed under the GPLv3 and other licenses.
Praise for Our Personal Space:
"...explores the adventure, romance, and everyday challenges of a new marriage on an alien planet. I usually don't play video games, but easily got lost in the intriguing plot twists, mystery, and ethical dilemmas of this complex story." -Catherine White, author of Cupcake Girl
"...reiterates the fact that marriage is not the 'happily ever after.' It's the 'once upon a time.' Charming and well-written; equal parts relatable and sci-fi." -Mary Tueller Whipple
"...delivers a heart-warming (or heart-breaking!) tale of two space colonists far from anything they might call familiar." -Lance Meibos
Screenshots: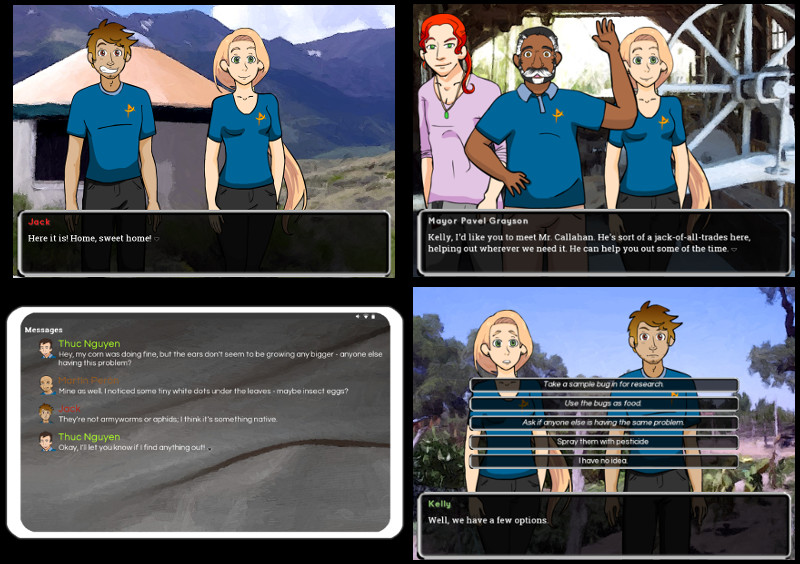 Endings Guide (spoilers!)