A-a game about slaps!
After the death of her father, Karon is now one of the richest women in the country. But she can't handle the grief of losing her beloved one. She spends her days going to plebeian shows trying to dissipate her mind and to avoid the several marriage proposals of hungry of money men. One of the shows happens to be run by Sabine, a man that says he can speak with the dead. Karon decides to take part of the show when she is asked to, but quickly gets fed up with it. On her way down the stage she meets Priam, Sabine's twin sister. As Priam demonstrates to be way more competent than her brother, she takes advantage of Karon's curiosity about what lies beyond the death by secretly making her the test subject of each experiment she performs.
:Screenshots: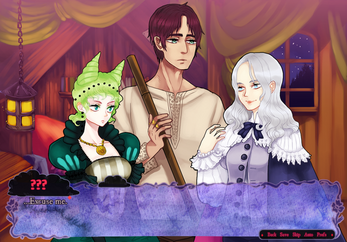 :Features:
>12k words
>A lot of sprite variations and cgs
>3 extra stories you can check after the end of the game.
EXTRAS
I did this poll before I completed the game, asking which one of the 4 main characters were your favorite just by their looks. I think it would be fun to know which now is your favorite after playing the game XD
So if you like, you can vote!
http://strawpoll.me/3797899
Charlatans extras and more on my blog
VNDB entry(Got spoilers, beware!)
Special Thanks!
>Arowana (Helped me with my programming doubts!)
>Carrogath(Helped me with music resources and to proofread the whole game!)
>Duskylli(Helped me with testing the game and pointed out the many errors the first version had!)
This is my first time going completely solo for Nano, since for
TKOT
I collaborated with Anarchy.
Please, let me know what you think about it
!