You can play Ghosts Are Good Hosts here!
This is more of a puzzle/mystery type of game rather than a VN, so I have been asked to make a proper WALKTHROUGH to help avoid rage quits.
ANNABEL
"Well, I've been trying my darnedest to make them like me.
I thought you can't eat someone you like, right?"
You receive a mysterious formal invitation to attend a soiree among friends at the Chateau de Carnelle... or so the letter says. However, instead you find yourself stumbled upon a party full of hungry ghosts! You will have to make friends with them if you want to make it through the evening in one piece. Annabel is another unwilling guest you encounter at the party, she would like nothing better than to not be eaten and go back to her home in Paris. Maybe you can help her, as well.
CORSAIR
"One time I had to endure the Duke of Earl at my table. He was not, in fact, an actual duke."
His Highness The Duke Corsair Yggdrasil The Fourth does not mince words. He is a very important individual, he says so himself. You might be interested to learn about his achievements and various collections of fine things.
HALLE
"Oh, darling. You do know where the party is."
Yes, you have the honour of meeting the Dame Halle herself. You know her, right? She was a famous movie star who had intriguing relationships with a who's who of Hollywood's best, according to her.
KAL
"I put glue inside Corsair's gloves one time, but I think it dried out before he put them on. That would have been so good!"
Kal is a young ghost who likes pogs, bugs, and pranks. Sometimes he likes to float upside down, sometimes he likes to float sideways.
SOUL
"You know... you look positively scrumptious! Has anyone ever told you?"
You might not think it to look at her, but Soul is quite an academic. She enjoys learning and having thoughtful discussions.
Genres
♦ Comedy
♦ Spookiness?
♦ Mystery
♦ Puzzle
Writing, Art, and Programming
Leonid Pilchin (@LeonDaydreamer)
Questions
♦ What do you think of the concept?
♦ Is the fact that it is a player-driven puzzle adventure type game (which you can get stuck in) rather than a VN more cool or annoying?
♦ How did you find the writing, characters, and artwork?
♦ What did you think about the juxtaposition of the humour with some of the more serious stories you come to uncover about the characters?
♦ Did you have to use the walkthrough? :)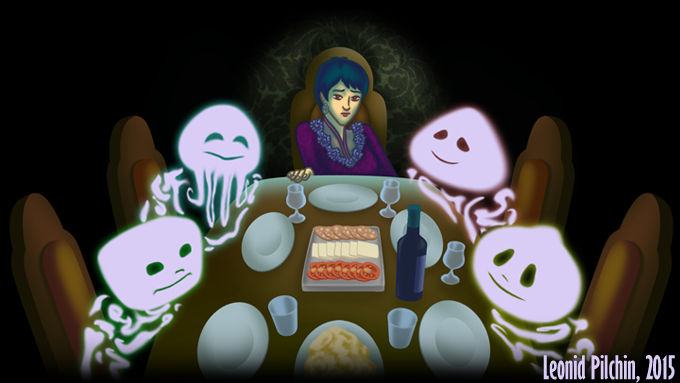 Thanks for checking it out!