Genre: Otome Fantasy, Adventure, Romance, Comedy
WARNINGS:
swearing, blood, death, and a little psychological

Long ago, when the world was still young and humans have just learned how to write,
Legends of mythical beings traveled over the continents.

Mysteries about the existence of Dragons, Griffins, Unicorns, and many other myths were told in folklores and heritages.

Some even has human characteristics such as Centaurs, Lamias, Anubis, and Kinara Kinari.

But there was one legend.
Lost and much of it is forgotten.
For none now lived to remember it.

A legend about humans with wings and humans with skin tougher than steel.
How they prospered and how they vanished without a trace.

This is a story about...

Birth,
Death,
Peace,
War,
And Love

How it all began from the gift of Blue Crystal
Both a blessing and a curse from the Goddess.

And now,

The Legend shall be unfolded by a human girl.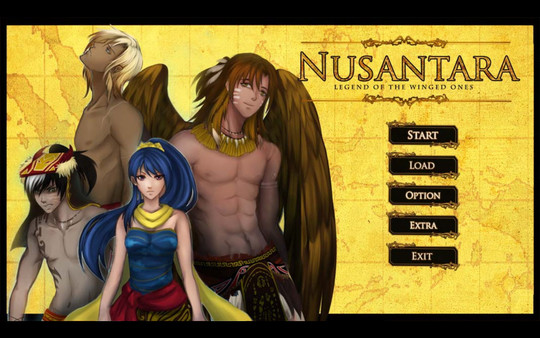 Background, GUI, & InGame Sample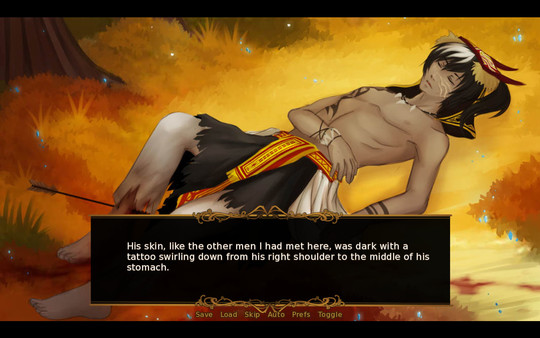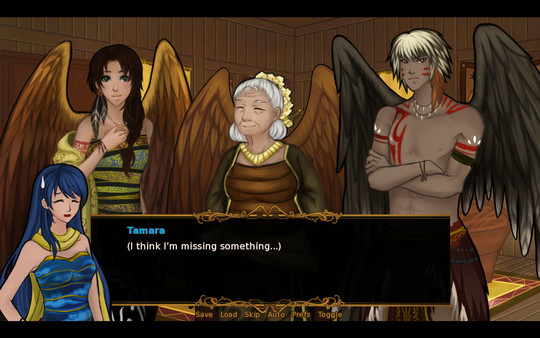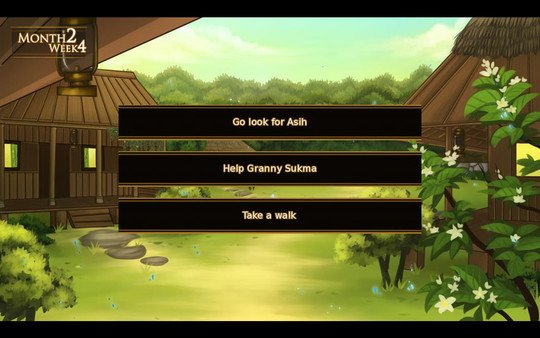 Notes:
After almost 2 years, this visual novel is finally DONE! *sobs* I'm happy to present this baby to all of you -especially those in lemmasoft or facebook page who have supported me from beginning until now :') I won't have the patience and motivation to finish this without you!
It may be still far from perfect, but I did my best polishing this baby so please enjoy it! :'3
Tips:
​- This game crashes a lot, so save often! ><
- if you can't open the game, update your directX!
- this VN can be confusing so I gave you a walkthrough in the .rar in case you got stuck
- according to beta testers the arrangement of routes for better experience is Mitra -> Rama -> Reksa this is optional tho xD
- From the comments, I notice a new bug in novelty. If you skip with space or by pressing ctrl, there's a chance that you might skip the choices, so I think it would be better to click with mouse when you're close to the choices part
Game Features:
- 3 love interests
- 6 endings
- 20+ CGs
- Auto save, toggle, mini encyclopedia
- Unfortunately, Nusantara won't have any mini games due to my lack of understanding in programming.
Download FULL VERSION 1.4 :
Now, this VN is a free-ware, but I do appreciate some donation since I want to buy a new visual-novel software (TyranoBuilder) since there are still so many bugs in Novelty
Not to mention the crashes and it can only be played in windows.
It's really a shame, but the crash is really annoying and torturing my laptop!
Via itch.io
Minimum requirements
Windows XP/Vista/7
Graphics hardware that supports DirectX 9.0c.
Questions For You:
There are also some question I'd like you to answer after playing this to improve my skills:
1. Which bachelor you like the most? and why?
2. What makes you consider to play this game?
3. Overall, what do you think about this visual novel? and what element stands out the most? (art? story? character?)
4. Do you have any question or constructive critiques? I will read all the comments and reply to them like I do in Lemmasoft.
5. Last but not least, if I make another visual novel, will you consider buying it? via patreon or kickstarter that is (since I need to eat, electricity, and such things when I make VNs xD)
It's optional to answer those questions btw :'3
Now without further ado, ENJOY!