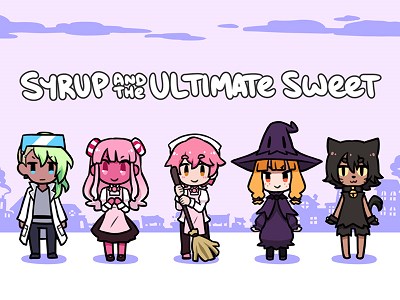 In a peaceful town of magic users, there is a shop that only sells ordinary, non-magical candies. Atelier Sweets.
The owner is known as the Candy Alchemist, a firm believer in science as the superior art.
Proud and stubborn, she continues to make magnificent candies in order to prove her case.

But one day, she found in her workshop a magical golem made of candy that wants to become her friend.
Where did she come from? Who the heck made her? GO FIND OUT!!

-- The game has 10 endings and 17,001 words. --
DOWNLOAD LINK
http://nomnomnami.itch.io/syrup-and-the-ultimate-sweet
WEB VERSION
http://sandbox-adventure.com/syrup/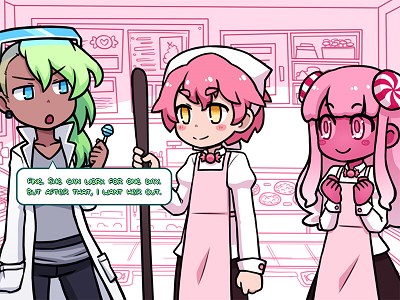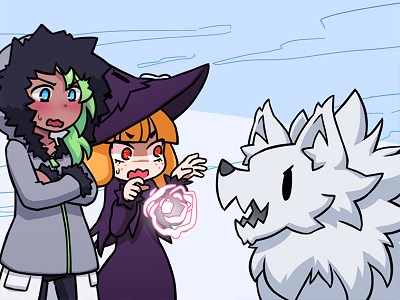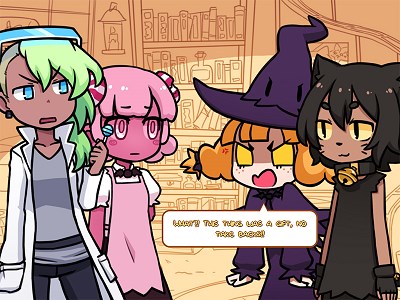 -- CREDITS --
Story+Art:
NomnomNami
Music:
Mock Off
Web version:
Dr Schizo
-- CONTENT ADVISORY --
There is some candy nudity.
In some paths she gets eaten.
In some paths characters die.
There are a few quick screen shakes and flashes.
-- NOTE --
All credit goes to NomnomNami for the wonderful story and arts and Mock Off for the perfectly fitted music.
I haven't made this game, merely translated it into HTML. So I can honestly tell you that this game is so cute, so fun and some routes are so surprizing, you all have to play this!!!!!!
I would still advice you to play the web version though
Nami is shy and that's why I'm posting this game here for her. But she will definitely read the feedbacks so don't hesitate to tell what you think of the game!
-- ADDITIONAL LINKS --
The soundtrack is available
HERE
.
6 video playthroughs:
ErynCerise
,
PressHeartToContinue
,
acindra
,
Geek Remix
,
BeardBox
and
Blake Star
.
You can find more about NomnomNami's work
HERE
. If you like her work maybe consider supporting her on
patreon
.