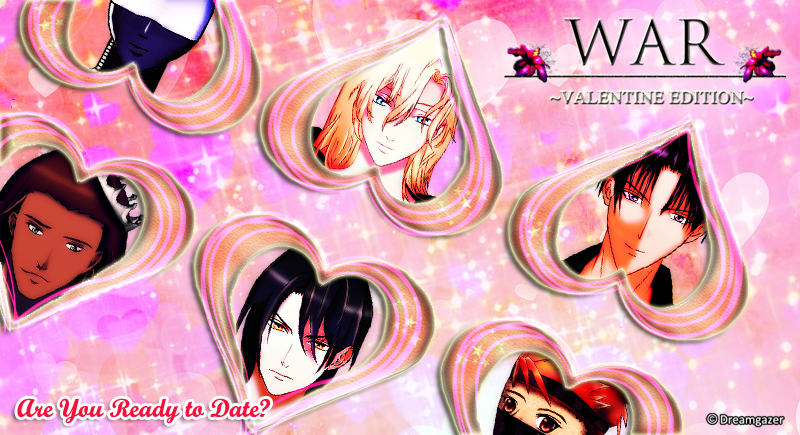 Get started on your date here!
If you're having trouble downloading it, try here.
Length:
~10 minutes per date
Rating:
13+ for suggestive situations and sexuality
Are you ready to go on a

Valentine date

?
Choose your Valentine from the men of
Beauty and the War (X Playing Pieces)
. Each date is like a box of chocolates - you'll never know what you'll get! Will he take you for a romantic walk down the beach or on an adventure of a lifetime?
Prepare for laughs, cute moments, and sweet romance in this dating simulation.
FEATURES:
♥
Choose your name.
You are the star of this date.
♥
300+ choices.
You get to call the shots. Decide what is said and done. As I said, YOU are the star!
♥
6 Bachelors.
Each one has their own distinct personalities, quirks, and love styles.
♥
Very Replayable.
Each date is the length of a one-shot. They're short and quick, which makes them fast and easy to replay.
I had a lot of fun making this game! You could say that this was my very own mini-Valentine jam. If it weren't for Oktolio and Katta, there wouldn't have been any CGs (either that or not very many)! Thank you both so much.
Katta did the lineart for 2 CGs (1 for Arsenik and 1 for Wind), while I did the coloring on them. Oktolio did the lineart for 12 CGs and the coloring for all dozen of them except for 4 of them (Onyx's and Arsenik's coloring, specifically - I took care of those). I was in charge of the backgrounds for those CGs and post-effects (a.k.a. the sparkly glitter, smoke, and other special effects).
They're both awesome artists, so give them a big hand for helping me out in the CG department.
That said, if you run into any bugs, please let me know ASAP. While you're at it, let me know what you thought of the game. I'd love to know what was your favorite date and boy. You're also free to let me know in this thread
here
.
Bonus:
Tell me what was your favorite line in the game!
Bonus 2:
After playing the game, who's your favorite date?
Cast your vote here!
Have a Happy, Happy Valentine's Day, everyone!
EDIT:
The demo for
Beauty and the War (X Playing Pieces)
has been released!
Check it out.
You can also click the button below: