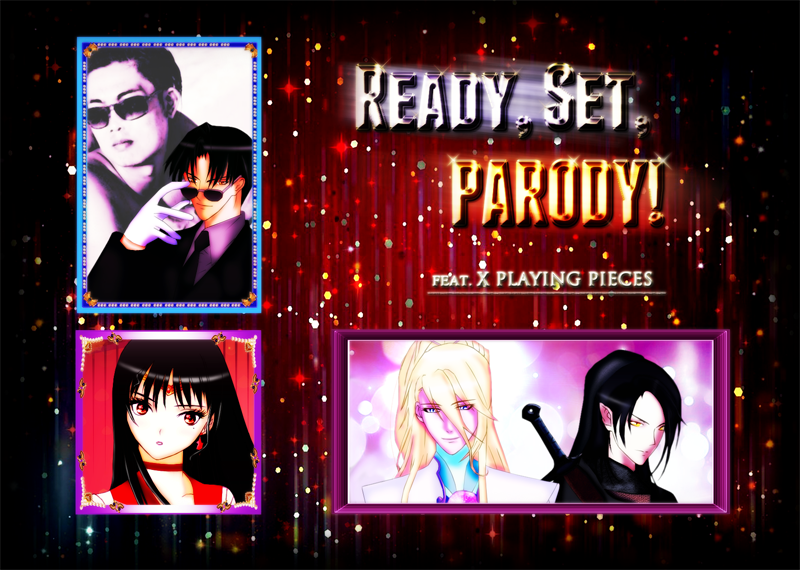 Get the party started

here.
If you're having trouble downloading it, get it here.
Length:
~1 hour
Rating:
13+ for suggestive content and...suggestive content. Yep, that's it. Thanks a lot, Night.
The only rule of comedy is that there are no rules.
The game of
Ready, Set, Parody!
has all the things you could do on a Saturday night and then some. There are game shows, Mad Libs, singing and, of course, cosplay. (But if you're looking for a date, I suggest you look
here
.) Hosted by the cast of
X Playing Pieces
, you'll probably think they're quite mad after this, but at the very least, you won't know what to expect!
HIGHLIGHTS:
♢ Snarkiness
♢ Flirting fun
♢ Blinking sprites and a few voices
♢ 2 short stories with insane plot twists
♢ References to popular series, ranging from
Umineko: When They Cry
to
Frozen
This was released for NaNoRenO just in the nick of time - about 10-20 minutes before the deadline. If you run into any bugs, please let me know! While super hectic, making this game was a lot of fun for me, and I hope you enjoy it, too.
If you have the time, let me know what you think! I'm curious to know what you thought of your hosts and their shenanigans. Did you have a good time? What was your favorite part? Tell me here or on
tumblr
.