...I think I died making this game. Wait, that's not the proper way to introduce this visual novel. Uh, okay, let's see.
DON'T TAKE THIS

RISK

HERE.
OR ON THIS ALTERNATIVE DOWNLOAD SITE HERE.
Rating:
13+
for descriptions of mild violence, intense situations, and suggestive language.
(So, don't worry about any gore!)
Genre:
Soft horror, (optional) disturbingly dark GxB romance
Length:
One playthrough is maybe...5-10 minutes?
► DON'T READ THE

PREMISE

◄
"Hello? This is...this is the suicidal hotline, yes?"
Uh-oh, wrong number. But you may not want to tell that to the man on the other side of the phone. How will you defuse this suicidal crisis? Oh, and better be careful not to tell him you love him.
As a horror game for the 2016 Asylum Jam, you can expect things to turn out twisted more often than not...
Are you sure you want to take that risk?
► DON'T CHECK OUT OUR

FEATURES

◄
◘ 9 Endings
◘ Fully voiced (with 2 different options)
◘ Itty-bitty animations
◘ Timed choices
► DO LISTEN TO OUR AMAZING

VOICE ACTORS

◄
◘ Alex Blackwell (Fun & Charming)
◘ Daniel "Lucidity" Peet (Cool & Alluring)
► DO GIVE

FEEDBACK

◄
My...my brain still feels half-dead from last weekend. Anyway, play it and let us know what you think. Which voice did you prefer? Which ending did you get first? I want to know all your thoughts - as always.
You can also reach me on anything in my usual social media list:
◘
Facebook.
Likey likey.
◘
Twitter.
#dttr
◘
tumblr.
...I can't think of something catchy to go with this. Tumble away into infinity with me? Ohh, you know what to do.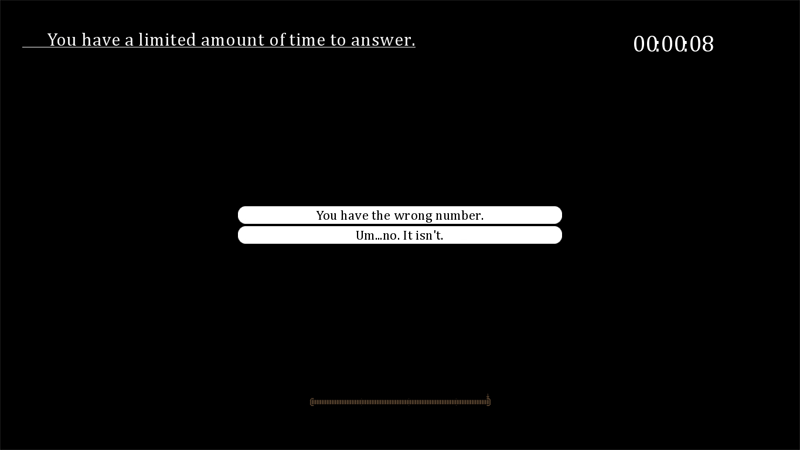 ► To everyone who supported us, thank you! ◄
All right. I think that's everything. Now, I can finally play catch up with my messages and check out both Mammon's game and Amiralo's sim! And, not to mention, set up the thread for a very special Christmas activity. (Katta should know what I'm talking about!
) But I digress.
I love you, darlings.
♥
P.S.

Here's the walkthrough, written lovingly for you.


If you want to find out the main guy's real name and see his true face,
please keep an eye out for Beauty and the War (X Playing Pieces).
He'll be in it...