I was thinking to make a WIP thread for this game, but I forgot and finished it, so sorry if this thread is too sudden ><
Anyway, here is the game: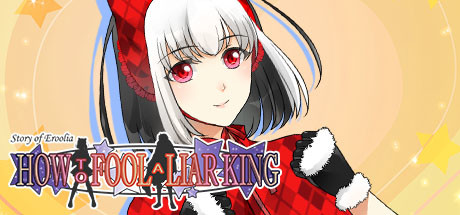 OFFICIAL SITE: CLICK HERE!
STEAM: CLICK HERE!
ITCH.IO: CLICK HERE!
GOOGLE PLAY: CLICK HERE!
"How to Fool a Liar King (HTFALK)" is a cute romance visual novel with male love interest.
The story begins after the ending of
"How to Take Off Your Mask."
However, you don't need to have played the previous game to understand the story. You may enjoy the story more if you do, though.
STORY
Regina, our heroine, magically appears in Eroolia.
She has no idea how she ended up in Eroolia, and here, she meets Juli and his companions, whom she ends up joining on their journey to Laarz, a country of cat people.
Will she be able to return home?
Is Regina's presence in Eroolia an accident or is there a purpose behind it?
Can she trust Juli who seems to be full of secrets?
WORLD SETTING
Eroolia and Laarz are the two countries located within the island of Eroolia, which is known as the isolated, cursed island to the outside world.
The two countries have terrible relations, as Eroolia, which is mostly occupied by humans, can't get along with Laarz, which is known as the country of the luccretias, the cat people.
Ozzwa, the country where Regina is from, is just outside the island of Eroolia and is known for its martial arts.
OPENING MOVIE
CAST
Regina - Megurika Kawanishi
Juli - Kon
Myana - Yuriko Yano
Mars/Old Man/Regina's Father - Taichi Tanukida
Ronan - Mato Sarashina
Gao/Regina's Brother - Naoto Takeda
Lio/Lilia - Eruru Takeda
Simon - Zex Flaga
Leona - Ryo Yuasa
Black Cat - Zakuroishi
VOCAL SONGS


THEME SONG
"Usotsuki na Ousama"
Vocal : inatsuri
Lyrics/ Composer : no.real
INSERT SONG
"Issho ni"
Vocal : Myana (Yuriko Yano)
Lyrics/ Composer : no.real
Vocal Recording: Studio KPP
STAFFS
Plan/ Scenario - Chu-3
Editor/ Proofreader - Angela
Character Design - Bakufu Narayama
Graphics - Chu-3/ Bakufu Narayama
BG Artist - Ferry Susanto
MORE SCREENSHOTS