The voices have all been recorded! And I've just uploaded an update with the intro, fully voiced! Check it out now. Chapter 1 coming soon!
Available for free here.
In celebration of the new VAs, I'm drawing some new CGs! Here's a sneak peak:

Paris and Ash have been forced to close their restaurants and sail to New Trinity after their hometown becomes little more than a rundown hunk of grass floating in the sea, thanks to the king and his taxes. They need money quick, and find an advertisement for a job requiring a guild to escort someone to the capital city. Join the adventure as two best friends fake their way through a get rich quick scheme and end up loving the consequences. Literally?

Become Ash and customize their gender, pronoun, look, voice, and background.
Different backgrounds means you can play all 3 romantic routes 2 different ways.
An emotion-based choice system, with hints you can turn on and off.
25 CGs, with more to come! The recent voice update includes 4 new CGs
A full soundtrack (created in Garageband) which is available on soundcloud.
An immersive, 98,000 word adventure about friendship and honesty (or lack there of)
8 endings, and other unlockable scenes and content
Make the game yours by choosing the main menu screen!
The intro has full voice, and voices for other chapters will be coming soon!
Accessibility: You can change the font from the main menu. Press 'v' for self-voicing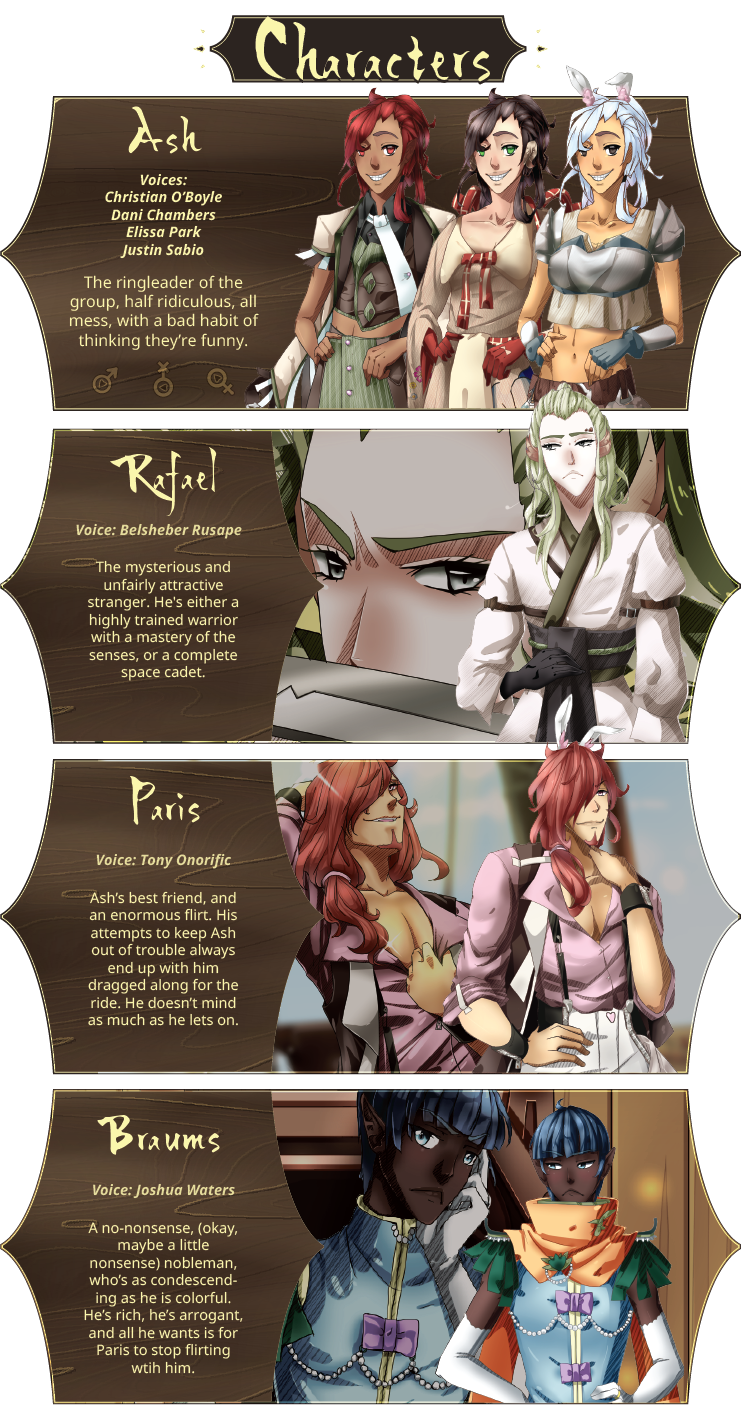 Language
Descriptions of intimacy
Brief nudity
Minor drug and alcohol content
Violence

Meet the voices who will bring these characters to life
(Those who provided info, full list available in end credits)
Elissa Parks Christian O'Boyle Dani Chambers Justin Sabio
Tony Onorific Belsheber Rusape Joshua Waters Minh Ton (@minhyva)
Current version: 2.2
Update 7/16/19:
+ Added voices to the intro
+Typo Fixes
+Updated the UI
+Added 4 CGs to the intro
Follow The Pretenders Guild tumblr for weekly updates on voice acting and CGs.
Become a patron of Minyan Studios here:
https://www.patreon.com/minyanstudios
Questions for those who play:
1. What did you think overall?
2. Were you satisfied at the end of the route you played?
3. What was your favorite part?
4. Least favorite part?
5. Did you find any bugs/typos?
6. Other comments or suggestions
Thank you!