Plugin Poetry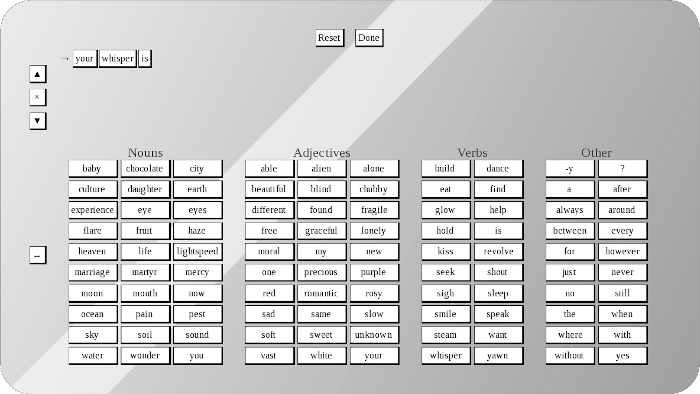 Create poems with a given set of words, magnetic poetry-style. You can then screenshot it or tweet it to share with others.
I created this as a minigame for our work-in-progress,
Our Personal Space 2: Space to Grow
, and thought I'd make a standalone open source version (
code on Github
) that anyone can use, modify, or include in their own game.
Wordpacks include Basic, Farm, Romance, Space, Activism, Family, and Separation.
Available for Windows, Mac, Linux, and Android.
Plugin Poetry Website
This project is open source and is licensed
CC BY-NC 4.0
and may be copied, modified, and distributed for non-commercial use provided credit is given to me, Andrea Landaker. If somehow you'd like commercial use, send me a message and we can work something out.
I'd love to see your poems and wordpacks if you'd like to share!
--------------------------------------------------------------------------
Updated to version 1.4, which I consider a beta. Adds Twitter sharing and better Android support. Please let me know of any bugs/missing features!