Hello everyone!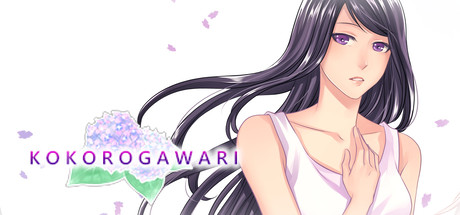 https://store.steampowered.com/app/895820/Kokorogawari/
After a long developmental process, Kokorogawari is finally on Steam!
(Officially open on 31 August)
It has taken us 2.5 years of hard work to reach this stage and we really want to share our game with the world!
Here is our Opening movie!
[youtube]
https://www.youtube.com/embed/5reBSNZCYAc
[/youtube]
★★★ About Kokorogawari ★★★
Kokorogawari is a GxB romantic human drama visual novel set in modern-day Japan. Through the main themes of the narrative- family, the visual arts and the complexity of relationships- we aim to bring you a story that both visual novel newcomers and veterans can enjoy!
Having been successfully funded on Kickstarter, we hope to receive your support so that we can share Kokorogawari with a wider audience!
You may download the demo here! ->
https://precatio.itch.io/kokorogawari
★★★ A heartfelt story... ★★★
Matsubayashi Asami is a fourth-year university student who, having seen her mother's hardships during the divorce thirteen years ago, bears a cynical attitude towards relationships and marriage. Harbouring wounds from the past that may never heal, Asami's insecurities and fears are laid bare as you dive further into the story.
However, as Asami's relationships with her cheeky classmate Shinichi, her polite colleague Yuuya or her self-assured art teacher Guillam deepens, she finds that her negative world view frequently gets challenged.
How will she cope with these new feelings...?
The two main themes of Kokorogawari are "the visual arts" and "family". The visual arts play an integral role in the way many of Kokorogawari's characters express themselves, while their families heavily influence the decisions that they've made in the past and will make.
Rather than just focusing on romantic emotions alone, Kokorogawari's characters explore the difficulties of social obligations and pressures that many of us have been through. This sets us apart from many otome (GxB) visual novels as "family" is a theme that is rarely explored at depth, even though for most of us, our families are a significant part of our lives.
★★★ FEATURES ★★★
★Gorgeous, high quality artwork
★Beautiful original soundtrack and theme song
★A more unique GxB visual novel experience that focuses on under-explored themes
★Dynamic and well-developed love interests and protagonist
★Optional "Love Stats" function to keep track of Asami's relationships
★In-game Japanese dictionary to learn even more about Kokorogawari's world
★Plenty of post-game bonuses to enjoy in the "Extras" section
★Easy-to-use, convenient interface. Fast-access rewind, skip and text jump functions to make replaying for new endings much simpler.
★6 endings; 2 per love interest.
★Approximately 24~28 hours worth of playtime
Note that currently, Guillam is not yet released, and he will be released as a patch soon.
******************************************************************************
Please support Kokorogawari by sharing about our release on your blogs and twitters!
P.s - Prepare your tissues...!