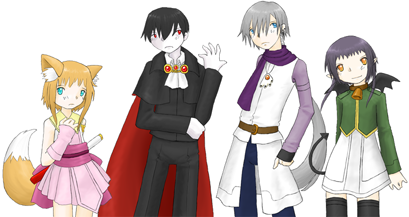 The Curious Alliance
I'm very pleased to announce that The Curious Alliance is finished.
Story
Since receiving his Summoner's amulet, Albert has searched through out the empire for remnant artifacts of the previous civilization, accompanied by his companion demon Neph. The two arrive in the remote town of Ravensford on the rumor of such an artifact, but find the town haunted by the vampire Darien von Creighton.
The Curious Alliance is a linear, non-romantic visual novel in a light-hearted fantasy setting. I estimate roughly forty five minutes to an hour of gameplay.
Characters

Neph
Neph claims to be a demon general at least 10,000 years old, but not even Albert knows if this is true or not. While often times loud and obnoxious, she is also a loyal friend. She likes anything salty or sweet, as long as it doesn't have mushrooms, olives or onions in it.

Albert
As a young Summoner, Albert only received his amulet 20 years ago and only has a contract with one demon. He tends to be unfailingly polite to strangers, but keeps them at arm's length if they get too close. Albert enjoys hot baths and a good book.
Darien von Creighton
The von Creightons ruled over the town of Ravensford until vampires killed Darien's father and turned him into a vampire as well. He collects whatever catches his interest, usually things that sparkle, and has a vast collection of magical items left by his parents. Darien quite possibly needs glasses, but claims it undignified for a vampire to wear them.

Saya
Saya has long been the guardian of the forest surrounding the von Creighton estate. She is a shy and sweet-natured girl who speaks only in a soft voice. Although never able to solve them herself, Saya loves riddles.