Download the full version on itch.io: https://pinlin.itch.io/darknights
Development blog: http://darknights-time.weebly.com/
Tumblr: http://darknightsblog.tumblr.com/
Discord chat server: https://discord.gg/b7wwHhx
Dark Nights is a visual novel I have been working on since 2014. The project got through a lot of changes and improvement. It started with the desire to create art for a visual novel. Before I knew, I was captured in writing and making all other assets. The story was originally 60,000 words and evolved into 300,000. I have never published my writing and I don't know if it combines well with my art, hence why it took so long. Because the project is old, I had to redraw many assets. It took a while to find a style I'm satisfied with. Even now, it's still hard to stay consistent.
The story had to be reworked too. At some point I was wondering why I am writing this. I didn't want it to be slap stick comedy, neither an endless drama. I was asking myself, what do I like about visual novels? While it is fiction, some themes are based on what I experienced. The plot is divided into 4 story lines. As beginner, it was tempting to add anything I could think of, but I decided to focus on a few elements in every route.
For years I worked alone, because I didn't had the guts to ask for help. In the end, I encountered many kind people that blew this project to life. I want to thank the composers, editors, proof readers and beta testers for working with me!
♦ Game info ♦
Commercial or free?
Free
Release date?
31 October 2019
Screensize:
1280 x 720
Genre:
Mystery, fantasy, romance, horror, psychological
Rate:
16+ for violence, blood and suggestive themes
There are 3 different type endings per route.
Romantic End | Normal End | Death End
♦ Features ♦
♦ 4 routes, each with a unique storyline
♦ 16 possible endings, 4 per storyline
♦ At least 10 hours playtime - 60,000 - 70,000 words per storyline. Total 270,608 words
♦ 8+ side characters, vary per route.
♦ 60 CG art/20+ cut scenes
♦ 60 Original background art
♦ 40 Original soundtracks
♦ 29 Achievements
♦ Opening video
♦ Bonus material
♦ Story ♦
The protagonist is student who has no goals in life. She lives in a calm village and grows bored of the environment. Despite her potentials, she doesn't work to develop them. Suddenly disappearances occur in the village. At the same time the protagonist meets new faces. It is suspected that a new resident is possibly involved in the events. The protagonist chooses one to investigate. From there the plot separates in four different story lines. Along the story she realizes what is important to her and discovers new things about her environment.
The story is told through moving sprites, original background art, unique illustrations and original soundtracks. Despite the title, Dark Night's world is vibrant with visuals. The story appears to be slice of life, but it quickly gets down to its true color.
♦ Main characters ♦

Heroine (Miyoko/can be changed)
A strong, badass and intelligent daredevil.
Zeikun
Blunt and straight forward character. He prefers to be alone and often chases others away. Despite his cold attitude,
he saves the heroine on the verge of death. Since he avoids questions, the heroine thinks he is hiding something.
Junoru
Just like his appearance, he is a real gentle man. He always speaks in a polite manner and is kind to the heroine. On the other hand his expression always carries a little bit of sadness. He is often absent-minded, which makes the heroine wonder what he is thinking about.
Sachiro
He is a little shy around new people, but keeps his friendly attitude. He is often seen alone during night. Somehow he disappears exactly when the murders occur. He may not look harmful, but what is hidden behind this innocent face?
Kurato
A strange guy who suddenly appear in front of the heroine's house. After a few incidents and misunderstandings, he is labeled as a stalker. Despite his cheerful personality, the heroine suspect his true intentions are different.
♦ CG Art ♦
One of the parts I struggled with the most. I started out as a complete newbie in digital art. After a year of trial and error, I found a comfortable style to work with. Although, it took another few years to develop my skills. I'm a little disappointed at how inconsistent my style is, but there is a limit on what I can do within a time frame. This is the main disadvantage of working solo on a (ambitigous) visual novel. The game has in total 60 CGs, 101 if you count all variations. In addition, 26 "low-quality" cut scenes. I haven't started talking about the number of backgrounds and sprites...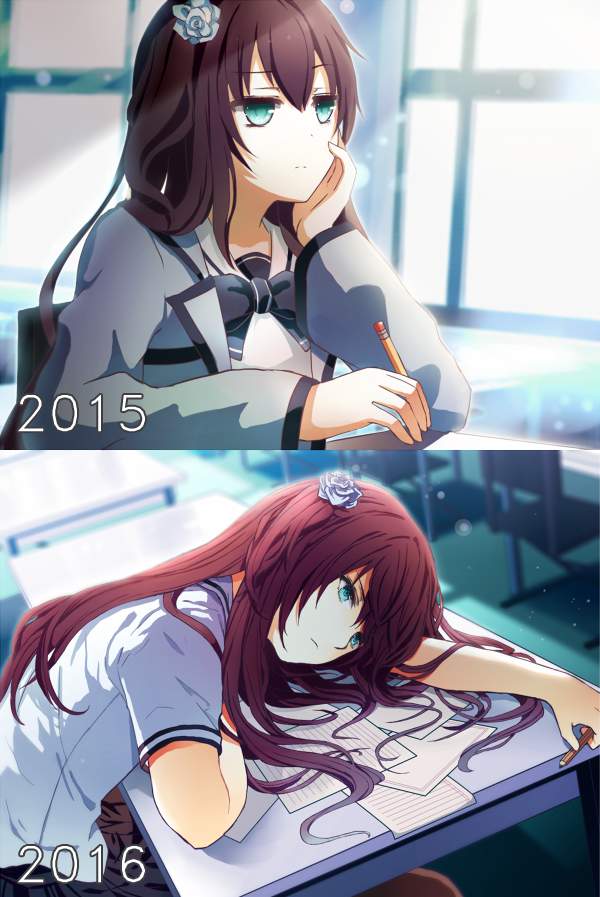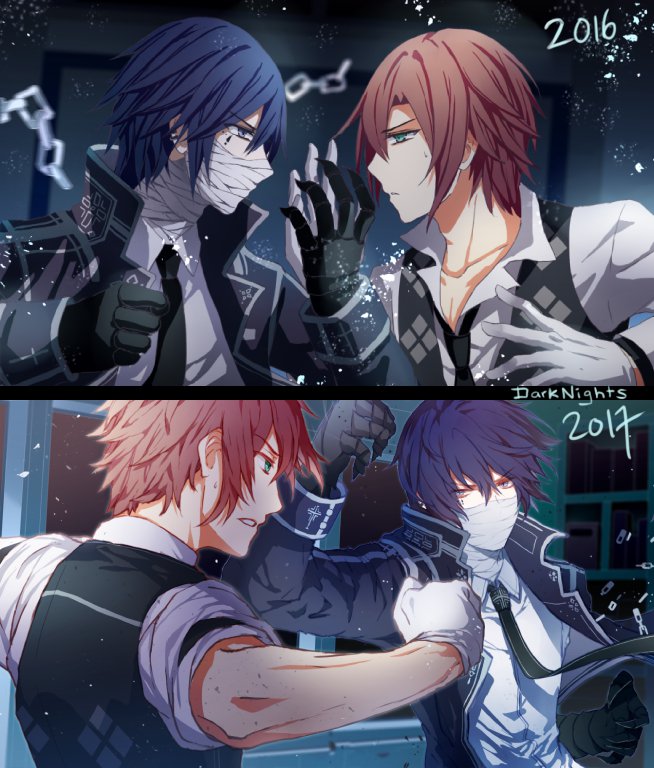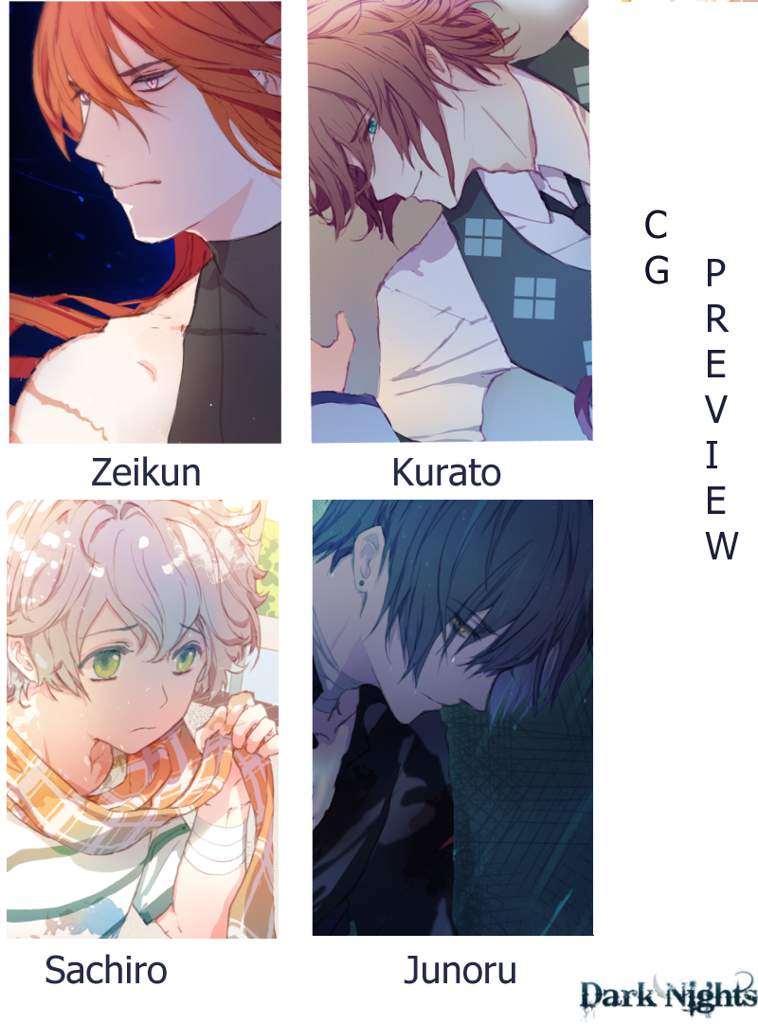 ♦ Background Art ♦
Initially I intended to use stock images for backgrounds, but later I thought to give myself a try. In the end, I'm glad with this choice because everything looks coherent. Counting all variations, there are about 89 backgrounds. 8 Of them are paintings of skies. I just love looking at them and I like to share my fascination in this game.
♦ GUI ♦
Even the GUI I had to redesign a several times. Back in 2014, I worked on a laptop with 1200x900 dimensions (good old times). The save screen is designed to look like a diary. For the interface I went for a clean style with a creative touch.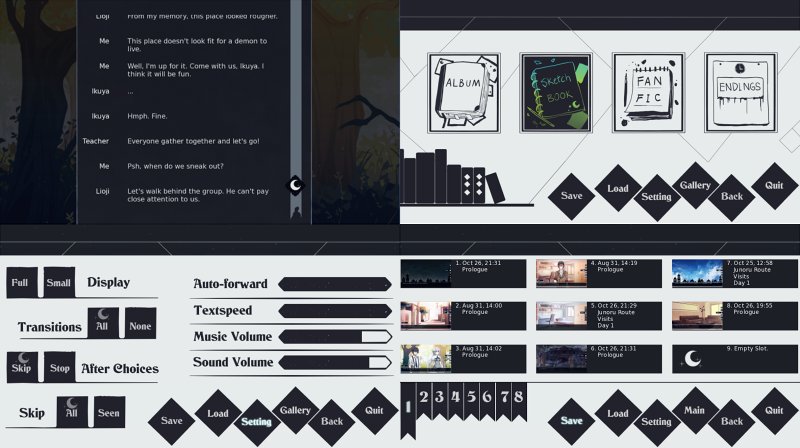 ♦ Music ♦
The music was originally composed by 4 of my friends. Together with a vocalist, mixer and arranger, I created this opening video. The soundtracks aren't published yet, I intend to create a DLC later. You can preview some crafts here:
https://soundcloud.com/pinlin/sets/dark-nights
♦ Questions for you ♦
Which route was did you and play and which did you enjoy the most?
Share your thoughts of:
- Writing/story
- Visuals
- Music/sound
- Game mechanics
- Characters/overall experience
♦ Solo project ♦
Story, sprite art, bg art, cg art, GUI and programming are done by myself. I worked with a few composers to create original soundtracks and sound effects.
I recruit a team of 11 editors/proof readers to polish up the script and grammar.
This game will NOT have voice acting. It may change my mind depending on how much support this project gets.