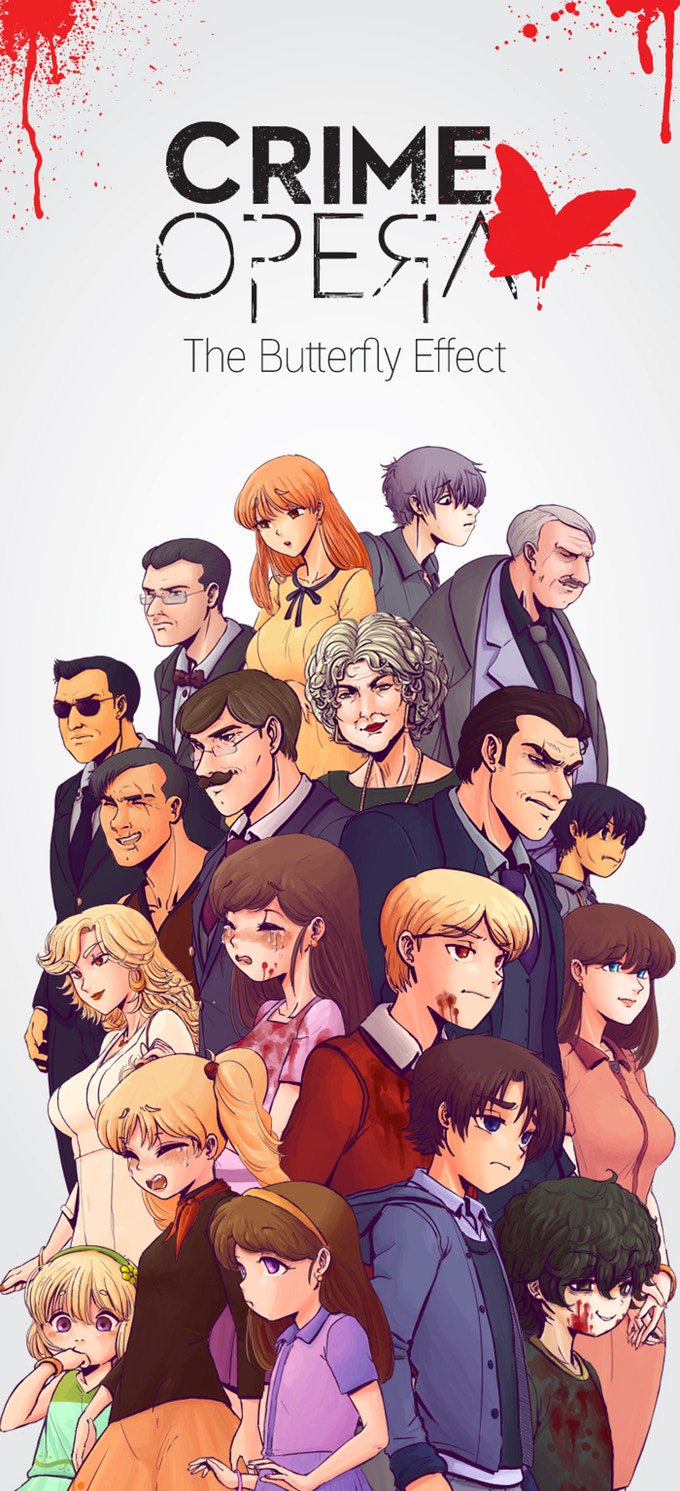 DOWNLOAD HERE:
https://crimeoperastudios.itch.io/crime ... fly-effect
Contact Us:
crimeoperastudios@gmail.com
Twitter
https://twitter.com/CrimeOpera
Facebook
https://www.facebook.com/crimeopera/
Kotaku article:
https://kotaku.com/visual-novel-sets-ou ... 1840002895
Details:
Play Styles:
Kinetic or with Choices

Main Route:
Over 64k words
Funding Breakdown:
All funds will go towards financing the already written sequel, Crime Opera II: The Floodgate Effect (which picks up the story a full 9 years later).
This first novel follows six narrators in their childhood, and focuses on their introduction into the Mafia world (through their parents). The story begins with the sudden death of the family matriarch and subsequently spins out of control when her two sons, Gerald and Xander, are put on the defensive, as former partners threaten to take over their collective business ventures for themselves. See through the eyes of the Gallo children as they witness murders, kidnappings, and a slew of other crimes wrought upon their households by their own fathers.
Crime Opera is a tale of both loyalty and deceit, murder and survival, and both the strength and frailty of familial bonds. These visual novels follow the Gallos as they are pitted against the outside forces of the mafia world, and eventually, each other as well.
This first installment contains 24 full chapters, and the main route is over 64k words long. At the beginning of the game, you can choose to read it straight through as a kinetic novel (no choices), or as a visual novel with choices that lead to other endings. These endings, while false in nature, *do* shed more light on characters and their motivations, revealing a much fuller picture of major events and how they were sparked into being.
KIDS
12 years old, Shana is the Oldest daughter of Xander and Molly. A caring young girl, wary of her father's ways, and constantly dreams of a life far away from all that she knows.
10 years old, he is the oldest son of Xander and Molly. An introverted boy who likes to go off on his own.
8 years old, he is the youngest son of Xander and Molly. A very troubled boy with a dark side to his personality.
6 years old, she is the youngest daughter of Xander and Molly. A girl who shows signs of schizophrenia and other dissociative behaviours.
15 years old. Gerald and Alice's son. An ambitious teenager who holds great respect for his father.
7 years old. Oldest daughter of Gerald and Alice. She is her daddy's little princess.
ADULTS
The eldest of the two brothers running the family business. Calm and relaxed, and in complete control of his faculties.
The youngest of the two brothers. He is hard headed, easily angered, and often violent.
Xander's young wife, and mother to all his children. Sweet, caring, and a good mother.
Married to Gerald. Quite stern in her ways, and never afraid to speak her mind.
The Gallo matriarch.
Cousin to Gerald and Xander.
SBester – Writer/Programmer
- "English Literature graduate (as well as a few other degrees). This series is pretty much an excuse to put those writing skills to use in a semi-professional way, I suppose. I've been writing Crime Opera over the last 5 and a half years as a response to the anti-hero fad that's been so popular as of late, in an attempt to fix what has bothered me about it for so long. I currently work as an admissions officer at a College, and in my spare time I am either writing these novels, reading, playing video games, or playing guitar with my band (EX-GRAVITUS)."
Jaytee Sketch – Character Artist
- "A freelance artist with an Economics Degree and an MBA. I have been doing art all of my life, as it's something I love and enjoy doing as a hobby (which eventually became a job). Now I take it very seriously, doing game assets for indie game studios (like TopHatStudios) which includes backgrounds and sprites for Visual Novels as well as other commission jobs (such as small animations, portraits, and art assets). When I read Sean's trilogy I loved it and thought it deserved to be brought to life as a commercial venture. I feel happy when I can inspire others through my art, and with this project I think I'll manage to do that and more."
https://twitter.com/jtSketch
http://jtsketch.tumblr.com/
Solo Acapello – Musician
- "Musician with a Master's degree in Music Composition. I've been writing music for a long time and have always wanted to use my skills to help tell a story. This is the perfect chance for that. While I have had pieces performed by the Toledo Symphony and String Quartet, among others, I am looking forward to creating music for games and am currently doing so full time."
https://soundcloud.com/solo-acapello
Giao Nguyen
- Background Artist - "Hi, My name's Giao, and I'm an artist from Vietnam. I worked as a background artist for an anime studio for 8 years (BIHOU Studio/ Japan), and now I have become a concept/illustration artist for a game company (VNG/VietNam). I always want to challenge myself with freelance jobs as well."
https://www.artstation.com/giaonp
ADDITIONAL:
Brandon Caskanette - Just happens to be besties with the lead writer. Brandon is a graphic designer who created the title poster, logos, and kickstarter images for the project.
Bonesey0 – Consultation - Bonesey0 runs TopHatStudios, and was nice enough to speak with us about his experiences with kickstarter campaigns for visual novels and provide some suggestions regarding goals.
https://tophat.studio/
Trey Fletcher (Valhalla) - GUI - Has completed not just the GUI for The Butterfly Effect, but has also finished GUIs for the first two sequels as well!
https://www.deviantart.com/wingedvalhalla
WhiteCharisma - Trailer/Opening Video - The opening/preview video at the very top of our campaign was completed by WhiteCharisma, and we couldn't be happier with the result.
viewtopic.php?t=40065
ExGravitus - Video Music Theme - My band, a Symphonic Metal project, contributed a track (the one you hear in the video)!
https://soundcloud.com/exgravitus
Troubleshooting Tips:
If the game refuses to launch for you, try renaming the folders to Crime Opera (take out all the '_'s). Weird, I know, but I found that tip on a forum and it worked for me. I had no issues getting the game to load in renpy so I knew it was something in Windows 10 that was blocking it. This should fix issues for other Renpy games you're trying to launch too, if experiencing similar startup problems.