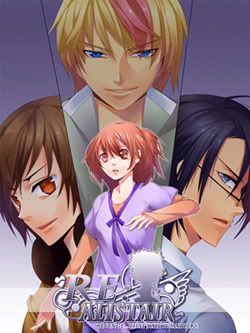 Merui loves video games, especially her favorite MMORPG, Rivenwell Online. Merui also has a very short temper, so when some JERK named Alistair steals a rare item from her, she's determined to exact revenge on him. Unfortunately, she has no idea who he is in real life. But hey, that's never stopped anyone, right?
Take control of Merui and make new friends, balance schoolwork and fun, go shopping, search for the culprit, and maybe even discover a new romance.
Super Edit
(04-10-10): We made an extended edition. Because we could. Well, it's probably more appropriate to say that this version is our initial vision of RE: Alistair. With our initial two month deadline, we had to cut a lot of corners, and this is our way of gluing those corners back on (hm...that's a poor metaphor). Either way, here's a new and improved RE:A, now known as RE:A++. Exciting, I know.
New features include:
-Backgrounds that are not photos. Made by mugen.
-A date box in the top corner. Now you can know what day it is!
-Large, attractive, stat button for easier access to your current stats.
-More CGs. Because they're pretty.
-More scenes. Spend extra time learning about your favorite guy. Or even your not favorite guy!
-Character profiles. Learn fun and interesting facts like everyone's age.
-An attractive, smaller filesize! (No, seriously.)
-Oda.
Art:
tooaya
Coding:
Thee Forsaken One
Writing:
sake-bento
P.S.
A few ending requirements have changed, so the
walkthrough
has been updated accordingly.
And
FAQ
just in case.