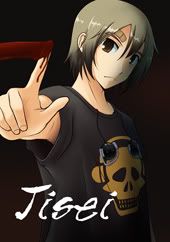 "I can relive the dying moment of any corpse I touch."

A teenager with no name and no home wanders from one city to the next, burdened by the weight of his extraordinary ability. When he is accused of murdering a woman that he's never met, he sets out to prove his innocence and find the true killer. The investigation quickly takes a turn for the complicated when a strange voice appears in his head, warning him to watch his step. Every word has a hidden meaning. Every suspect has a secret. Search for clues, interrogate the witnesses, and unravel the mystery before it's too late.
Hello all. Sake-bento here with a shiny new mystery game full of...mystery. Okay, so that bit was probably a given. Hey, I tried. Anyway, here's the latest from sakevisual. If you're wondering about the filesize, it's because this game is voiced. >.>
List price is $15.00 USD
, but I'm giving a
25% off code to anyone who draws fanart for me
. Those of us who don't have the artistic strain can supplement fanart with a blog post (250 words or more) reviewing the demo. If you've already sent me fanart, you should have your discount code already. If you don't, just email me again (
ayu@sakevisual.com
).
Art:
M. Beatriz Garcia (dejichan)
Writing, programming:
Ayu Sakata (sake-bento)
Original Soundtrack:
Marc Conrad Tabula
Opening Song:
Aural Wave
Cast:
Chance - Kira Buckland
Miss Bergstrom - Morgan Barnhart
Detective Gurski - Chris Niosi
Kizaki - Micah Solusod
Voice - Apphia Yu
Buy the Full Version:
http://sakevisual.com/jisei/