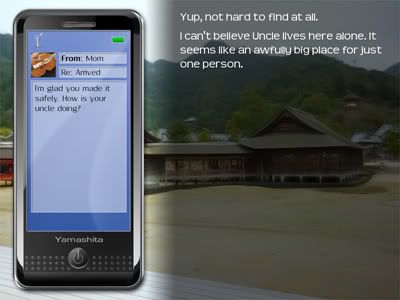 Sakevisual presents yet another remake. >.> The first version of [text] was a sound novel that I used as a practice piece for me as I tried to get the hang of branching storylines and some of Ren'py's nifty features like Animation and UI interaction. This version is once again a practice piece as I try to get the hang of ATL and screen language. I think it's better than the original. I'm also glad that I managed to finish it today, as some might consider this to be holiday appropriate.
Synopsis:
Maya's uncle is a caretaker of a small shrine in Japan. While visiting him, she winds up exchanging texts with a local boy named Takeshi. This is their story.
Scenery Photography:
Samu-kun
Phone Icons:
templay.de
Writing:
sake-bento
Sound Effects:
freesound
(Full credits in game)
Music:
Susumu Hirasawa
With a million thanks to the beta testers and proof readers who caught all my stupidity (I hope).