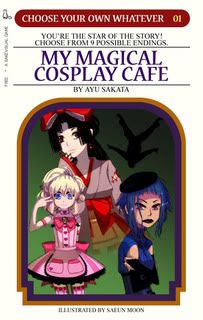 04-20-2011
Because it's not a crazy NaNo game without a few loose ends. >.>;;
MagiCos now has proper CGs now instead of the previous rush jobs, including, by popular request, a CG for everyone's favorite ending. Many thanks to peong-keu for working so hard to get them all done.
Also, if you prefer a Windows installer, you can get that at
my site
.
The game follows the life of Takeshi, a chef at a cosplay cafe. I was inspired to write this because I realized that I haven't written a "proper" Japanese romance VN yet*, and I really wanted to do something with cute girls, magic, and a happy end. I hope you enjoy it.
Written by Ayu Sakata
Art by peong-keu
Built with Ren'py
Music (Original Soundtrack) by dkreuter
Music (Alchemist's Tower, Somewhere Sunny, Other Side of the Door) by Kevin MacLeod
Music (Who Is the Best?) by Aron Shorty
Sound effects from Freesound, by EcoDTR, gezortenplotz, ljudman, themfish, RHumphries, junggle, Tomlija
Font by Blambot
*I still haven't.