Random question is random, I just wanted to know you guys a bit more :3. Let's see, let's see...hmmm, I'll post them in order :3.
5. Saya from Saya no Uta
Even when you find out the truth about her, it's impossible not to love her. I found most of the sex scenes satisfying just because of her. Don't get me wrong, not because she is a lolita, but due to her reactions and ways of doing stuff. Man. So sexy. Also, she's a great troll. You'll never see it coming.
4. Jose from Enzai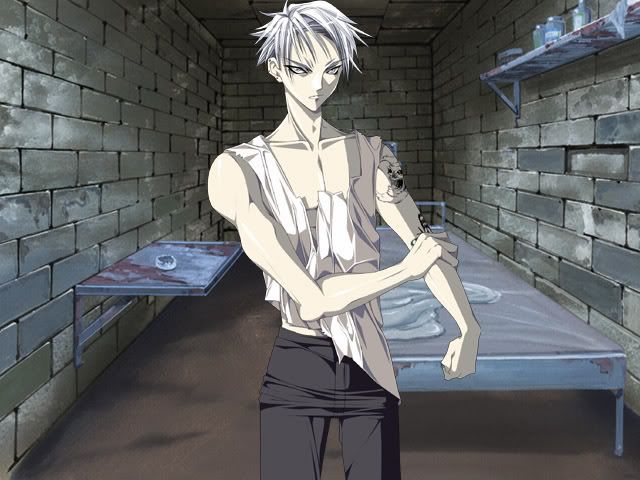 Sorry for the Yaoi xD. I swear it's goddam impossible not to love this guy. He is one of the best characters I've ever seen. And he really helped to lighten up the atmosphere with his sex jokes. I want a Jose for myself T_T.
3. Fiend from Juniper's Knot
A wonderful KN with wonderful characters T_T. And she takes the cake. Just looking at her makes me happy and sad at the same time ;_;. Just...magnificent.
2. Kia from Absolute Obedience
Yaoi again xD. Sorry, but Langmaor has some great characters, and man, Kia is the best of them. A sweet combination between evil Jose and caring Shion, he is, for me at least, the sexiest guy (he is bi, ladies <3) in any VN out there
.
1. BEATORIIICHEEE from Umineko no Naku Koro ni
Troll of Trolls. Witch of Witches. Love of lovers <3. I just love Beato. All of the characters from Umineko and Higurashi are plain wonderful, but there is no character better than Beato. For me she is and will always be the best and most wonderful VN character ever
.
Finished :3. So, what are your favourites?

Goodbye. See you again ~