"Time is ticking..."
Demo v.1 is up~
I'm sorry. It's short. But you get to see blushing MC without glasses? (Awkward...drooling over yourself...O.O)
Link:
http://www.mediafire.com/?jsb563bjlv5reu6
Tell me if it doesn't work. I'll upload separate distributions.

Kismet: The Murder Files
It's the year 2013 - after the supposed 'end of the world'. People are beginning to settle down again, but due to the dire loss of equipment, etc. life has reverted back to old edo style mixed with contemporary. Hierarchies emerge once again as the families who suffered the least after effects seize power and rise to the top whereas the now homeless and unemployed gather in shelters.
You play as a character who, along with many others, have formed teams to help those in need. Though you are still young, as long as you have passed a bar exam (literally) you can obtain a "Bandito" badge and
receiver
, certifying you as a "Bandito". As you begin your journey as a "Bandito" with your partner, you wake up from a strange dream. Later that day, you swipe your first mission - to find the Lady 'Hikami' Mitsuka. Believing this will be an easy shut and close case, you go off to find her. Along the way you realise that this isn't the simplest lost and found mission - especially not when the Lady Mitsuka is found dead.
In the exact place you had seen in your dream.
Her childhood friend, Fuzen, has been named as the culprit. Believing he has not committed the crime due to some gut feeling you go ahead to find the murderer in this case, encountering many others who may or may not be involved in the case.
What is this strange ability you seem to possess and will it help you?
Who is the man that appears in your dreams?
Who is the murderer and why?



Solve the mystery and discover the truth.
You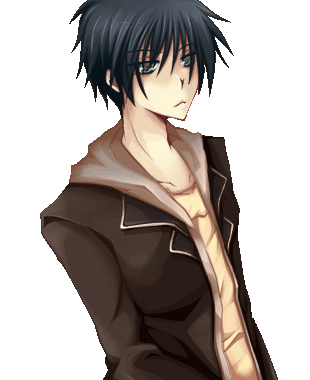 Megane~!
16 years old and a newbie "Bandito". You possess the ability to see someone else's present time in your dreams and your gut instincts are right on cue. With your partner, you try to solve the mystery behind Lady Mitsuka's death before Fuzen is convicted. Quite serious and has a loss of humour.
Katsutoshi
17 years old and a newbie "Bandito". Your partner who swiped the job. Cheery, gluttonous boy. His motto is "Anything is good as long as it pays!"
????
Age unknown, but seems to be 15-16? Mysterious person who appears in your dreams. He seems to know who you are yet you don't, even though he says you have met. Helps with the case.
Lady "Hikami" Mitsuka
This one doesn't appear at all...well the bloody one does, but not this one
13 years old. Is dead at the start of the game. The mission was to find her, but becomes a murder case when she is found dead. Why was she there and who killed her?
Miyako
16 years old. A strange girl who seems to be hiding a past. She appears one day, claiming that she knows something but won't tell you unless you help her.
Fuzen
17
15 years old
I felt a little disturbed that a 13 year old had a 17 year old childhood friend xD not that it's not allowed...
. Childhood friend to the deceased Lady Mitsuka. Main suspect in the murder case. He is held under house arrest after his ring is found near the body.
Lord "Shigemitsu" Togai
16 years old. Another suspect, in your books, as the murderer. Another one of the 'high-class' families which survived well after the 2012 incident. Both the Shigemitsu and Hikami family was planning on wedding Lord Togai and Lady Mitsuka, yet Lady Mitsuka refused.
--------------------------------------------------------------------------------------------------------------------------------
Story/Writing: manga_otaku
Sprites: a27052188 (Bassnovel)
[& gundestiny?]
CG artist: ?
BG: Bassnovel
--------------------------------------------------------------------------------------------------------------------------------
Progress~!
Writing/Story: >10%~
Sprites: 50%~
BGM & SFX: 99.999999...%~
BGs: 99.999999...%~
CGs: 0%~