Tumaini wrote:(As a quick note, I love that the Amamiya brothers really seem like family - you just know they're close. Which makes the incest issue all the more delicate... Thank you for wanting to handle it tastefully instead of the typical fare, and I trust you will indeed; for some reason, there is not nearly enough of that. I like incest in fiction because of the delicacy of it, the fact that it's forbidden by society and should be handled as so. Mindless fanservice doesn't do this theme justice.)

Well, your responses just make me more giddy for this game... aaah... I cracked up at ''ore wa homo janai,'' btw.
I'm really glad it seems that way. Their relationship is a bit strained because of what's happened in the past, but they are
really
close, even if Shuuki and Masaharu don't like to admit it. Obviously I have no real concept of what incest is like (I have a brother, but uhhhhh lol) but I'll try to make it tasteful and not fanservicey.
Yeah, so none of this: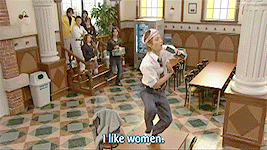 Arcanum wrote:For some unknown reason, I thought Shuuki would have blue hair XD He's looking really good with that bleached look, though *g* The colors/shading helped to bring out a lot of his personality.

Anyway, Camille, you told us a lot about the other characters, but no such information on Masaharu ;-; More on him, please? I want to know how he relates to the other characters too *g* *already wants to tap that so bad* He makes me sad that there won't be any H scenes… My feelings towards him aren't so pure. Tears of woe.
He might actually be able to pull off the blue hair. XD But yeah, glad everyone seems to like how Shuuki looks. He's so pretty, it's sort of ethereal. owo
Ok well between the three brothers, Masaharu is the one that's on the straight and narrow. His parents pin the most expectations on him because Natsu and Shuuki are kind of weirdos. He's the one who studies hard, who works hard in sports, and who's pretty serious about everything. He's not very good with his words. Even though he knows his behavior hurts Natsu, who still feels guilty over what happened with Fuyuka, Masa can't help being something of a tsundere, lol. With his classmates, however, he's really different. He's outgoing, friendly, and supportive. He just can't seem to find the words to say to his older brother. He and Shuuki kind of bicker in a semi-friendly way, but they're pretty close. His creator has said that he's very close to the members of his basketball team and if I was to make him an MC, he would be like a shounen manga hero. 8D
He and Yukinari bonded because they were forced together for a class project. Yukinari reminds Masa of his brother, so he tries to be nice to him and talk to him even after they finish the project, but they don't have much in common, so I wouldn't call them good friends or anything. Yukinari always turns down Masa's invitations to eat lunch with him and his friends, but Masa does talk to Yukinari about his family a lot (read: he COMPLAINS about his family a lot), so at the beginning, even though he's never formally met Shuuki or Natsu, it's like Yukinari sort of knows them already. Deep down, I think Yukinari envies/scorns Masa a bit because he also has brothers, but they don't get on well at all. So when he sees Masa treating his brothers "badly" even when they're really nice to him, he gets kind of pissed, though he never says it out loud.
I think, despite his serious demeanor at times, Masa's definitely the most innocent and pure-hearted of the three brothers. Though he may fight it, I think if Natsu ever seriously asked him to do something, no matter what it was, Masa would do it.